In addition to being the final day of November, it is also the birthday of one of my favorite authors, who is best known as Mark Twain.  In celebration of his life's work, here is one of my favorite quotes that has served me well, not only when it comes to market analysis but also in life in general.  "Whenever you find yourself on the side of the majority, it is time to pause and reflect."
It would appear that number of markets have now fallen prey to a trifecta of negative influences. It would seem that without question, the uncertainty surrounding the spread of Omicron was the initial catalyst. Still, then when combined with holiday volume and end-of-the-month liquidation, you ended up with a toxic mixture for bulls.  As they say, when in doubt, get out.  Some outside markets, such as equities, were spared the risk-off selling yesterday, but it would appear that changed overnight as well.  While I have no unique insight into this latest variant of covid, I would like to believe that with each incarnation, we have learned a bit more about how to live with it. If correct, this current volatility can be chalked up to year-end holiday market noise.  That said, such noise can be deafening at times and can leave one with a real headache.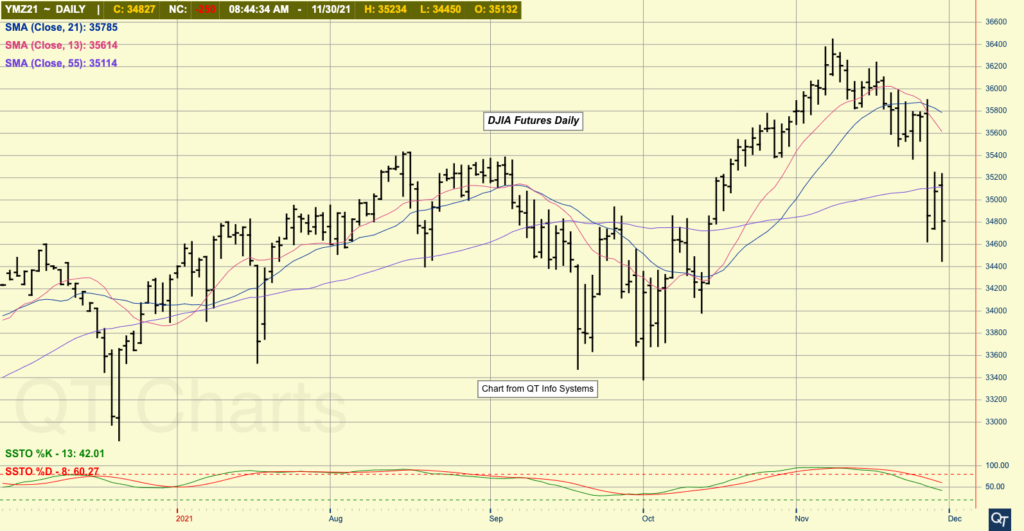 With corn and bean harvest under wraps for the majority, NASS did not include that in their weekly progress report but did provide updates on other crops.  Cotton harvest has now moved ahead of the average pace and is reportedly 85% complete.  Sorghum is 97% harvested, Peanuts 96%, and Sunflowers 94%.  92% of the winter wheat is emerged, and the rating improved 1% to 44% good/excellent.
In the Southern Hemisphere, AgRural reports that 90% of the beans are now planted in Brazil and 93% of the corn.  Overall, crops remain in good shape, but Dr. Cordonnier did lower his corn production estimate 1 MMT this week due to the dry conditions, as well as a forecast for more of the same in Rio Grande do Sul.  Further south, the Buenos Aires Grain Exchange estimates that 39.3% of the beans and 30% of the corn is planted in Argentina.  This is 2% behind the average for beans but nearly 10% behind the average for corn.  Corn that is in the ground is rated 81% good/excellent, but that is a 10% drop in the past week.
There was one export sale reported this morning.  132,000 MT of beans were sold to unknown destinations.
In economic news, Redbook Weekly U.S. Retail Sales for the first four weeks of September were 16.9% above a year ago.  The Case Shiller Metro Home Price Index for September was up 19.1% from a year ago but just .8% higher than August.  The Chicago, November Purchasing Managers Index came in at a disappointing 61.8, versus the expected 69, and the Conference Board Consumer Confidence Index was slightly below expectations at 109.5, but still down from the previous reading of 111.6.
All the uncertainty appears to have driven buying into Bitcoin and gold and sent financial instruments sharply higher.  Energies, equities, and the U.S. Dollar are all lower.