Tuesday's child may be full of grace, but in a number of ancient civilizations, Tuesday was associated with conflict or was considered unlucky.  The word is derived from the name of the Nordic god, Tyr, who was the god of single combat, and in ancient Greece, it was remembered as the day that Constantinople fell to the Ottoman empire.  While I would not go so far as to say this translates to market action on any given week, but I suspect more than a few bulls felt rather unlucky and under siege yesterday. As I pointed out on Monday, it appeared that on the combination corn, wheat, soybean chart, that we had completed an A, B, C corrective advance, which now seems to have been confirmed.  Prices have recovered some overnight as we begin this new month, but with funds in a risk-off mood, it may be difficult to attract sustained buying between now and the end of the year, and it seems likely that this five-month sideways pattern will continue.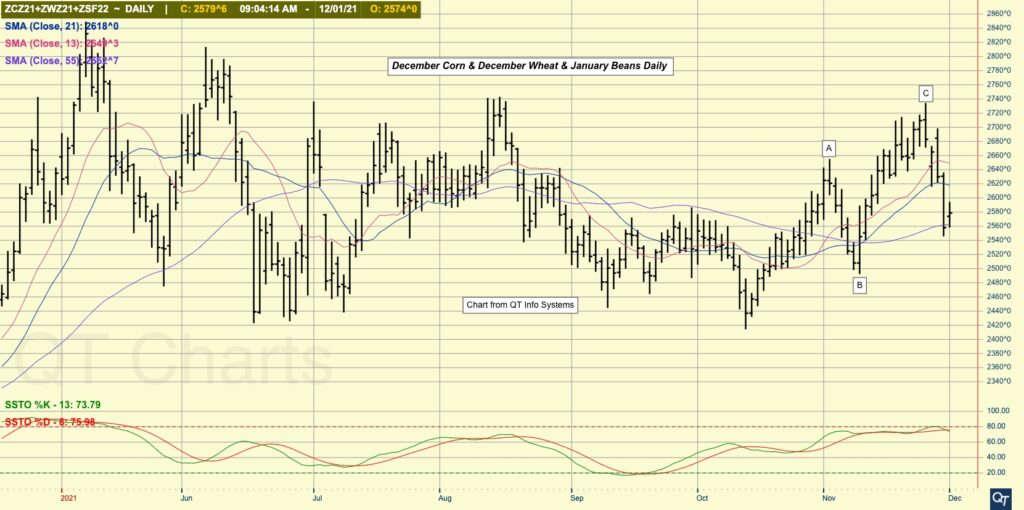 We do have one export sales to pass along this morning.  Colombia purchased 150,000 MT of corn for the 2021/22 crop year.
I came across an interesting piece this morning concerning the diet of some chickens in England.  The fourth-largest grocer in that country has embarked on a program with 10 of its egg suppliers to replace soymeal in the chicken feed ration with a diet of British beans, peas, sunflower seeds, and insect protein.  The latter will be produced on "farms" where the bugs will be feasting on the waste from the grocers' unsold fruits and vegetables.  Those ingredients do not sound all that different from what you might find in "fake" meat products, and of course, some are promoting our use of insect proteins for human diets as well. The rationale given for the change is to create a "carbon neutral" free-range egg. In some circles, soybeans have become associated with rainforest destruction, not to mention the extensive use of fuels in shipping and the overall supply chain.  This is actually the second grocer in England that has moved in the direction of a soy-free diet for chicken feed.  While nothing was mentioned about the economics of such a move, one must suspect it is semi-competitive.  While the number of birds fed is not yet significant, it does appear to be a trend that is growing, not only in chickens but other livestock as well.  If that continues to grow, as they say, it ain't chicken feed.
On the economic front, the Markit final November Manufacturing Sector Purchasing Managers Index (PMI) came in at 58.3, versus the expected 59.1. Construction Spending in October increased .2% versus the expected .3%, and the ISM November Manufacturing Prices slipped to 82.4 versus 85.7 last month.  Could inflation be cooling?
In the macros, we have energies and metals higher, financial instruments under pressure, the dollar is weak, and equities are higher, and we have recovered a good portion of Tuesday's loss. Yesterday, Fed Chairman Powell suggested to lawmakers that he favored speeding up the withdrawal of the asset purchase program, which helped accelerate the break inequities.