When the grain and soy market began the post-Thanksgiving week under pressure, it appeared that we could be on the path to validating the old adage that when bulls get the turkey for Thanksgiving, bears will have it for Christmas.  Of course, life and market trends are never that easy, as buyers reemerged after the initial onslaught of selling.  We are still on track for corn and wheat to close lower for the week, but bean bulls appear to have a renewed sense of purpose, and the combination of the three markets are now only fractionally lower for the week.  I would not go so far as to suggest this means strength will carry through into the weeks ahead, but the action would seem to confirm another truism, in that during the last few months of the year, we often witness little more than directionless chop.  Unfortunately, when you glance at this chart, we have witnessed that for the better part of the past six months.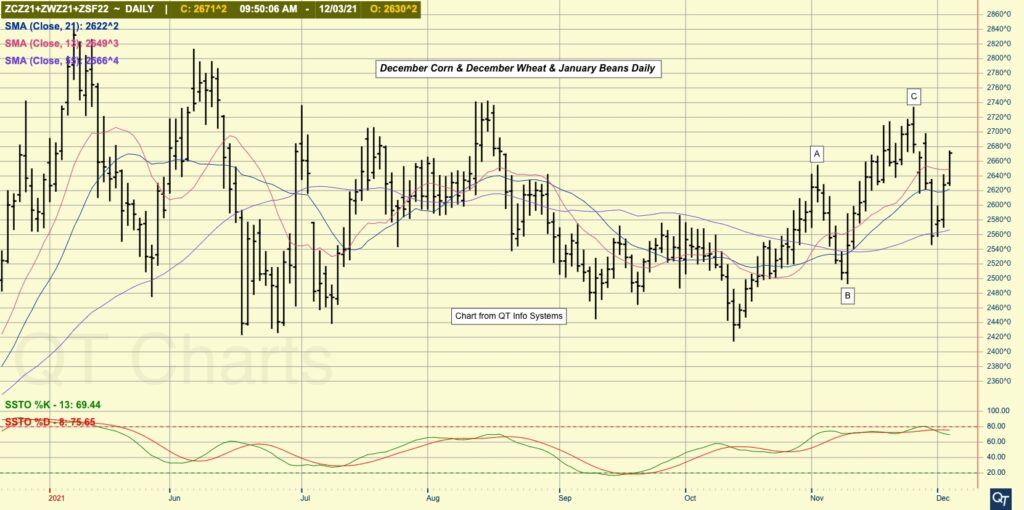 Stats Canada released production figures this morning, which came in a follows; All Wheat production totaled 21.652 MMT, which is slightly better than the 21.2 expected.  This is down from 35.18 MMT last season.  Canola production came to 12.595 MMT, versus 19.48 last year, soybeans at 6.272 MMT compared to 6.36, and corn at 13.984 MMT, versus 13.56 last year.  Barley production slipped to 6.948 MMT from 10.74 last year, flaxseed to 346 MT from 578, and oats to 2.606 MMT compared with 4.58 MMT last year.  Is it any wonder oats have moved into new record highs this year?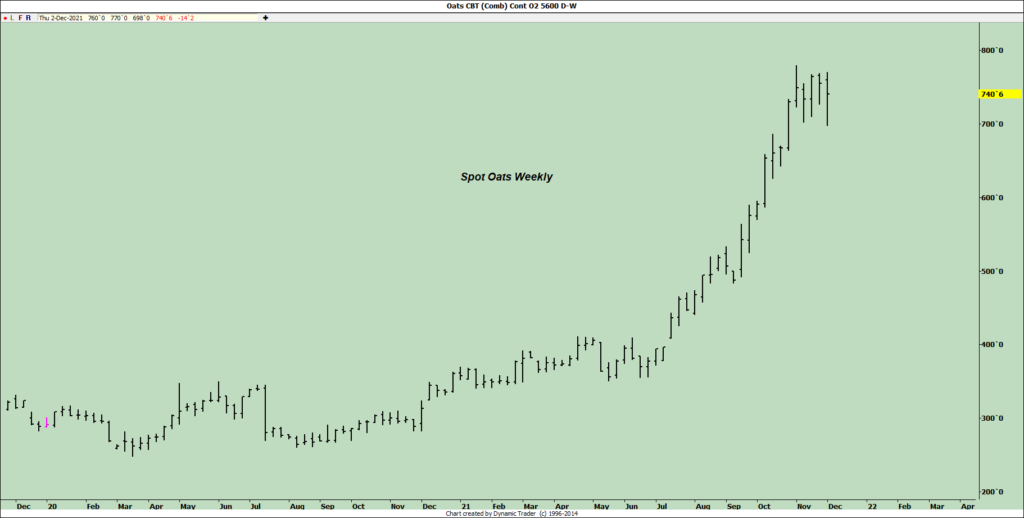 A couple of days ago, I wrote about the trend of using insect protein in chicken and other animal diets, which led to the logical question; Why should livestock be the only mammals that get to enjoy such a delicacy?  The answer is, they are not.  There are a number of startup enterprises, are manufacturing human food with various insects that are meant to compete with the growing list of faux-meat products.  The Aspire Food Group is building an 11-story vertical cricket farm in Ontario, Canada. Does this make them insect ranchers?  Sales of insect-based foods amounted to less than $1 billion in 2019, but Barclays Bank estimates it will grow to over $8 billion by 2030.  While I am not sure if many of you are going to rush out and try to find a package of cricket burgers, but it does give a whole new meaning to that line, "Waiter, there is a fly in my soup." The response to that may now be, "Would you like some freshly ground pepper on that?"
The Food and Agricultural Organization, FAO, of the United Nations has published data on food prices for November, which climbed to a 10-year high of 134.4, which was up 9/10th of a percent from October.  Year over year, the index is up 27.3%.  The most significant increases last month came in cereals and dairy.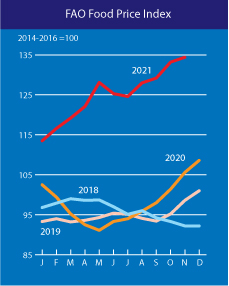 Looking at the macro trade as we wrap up the week.  Brent crude oil is higher this morning but still lower for the week, gold is down $25 for the week, and Bitcoin is down over $2500. Both notes and bonds are higher for the week, with bonds outpacing notes.  Equities are on track for the second lower weekly close in a row, but the U.S. Dollar has shaken off the early week selling, and it is on track to post the highest weekly close for the year.