Grain and soy markets tried to get off on a positive note for this first full week of trade this month, but the optimism was fleeting, and prices quickly moved into lower territory.  Other than the announced sale of 130,000 MT of beans to China, the news is rather sparse, so it is difficult to think the action amounts to anything more than holiday market noise.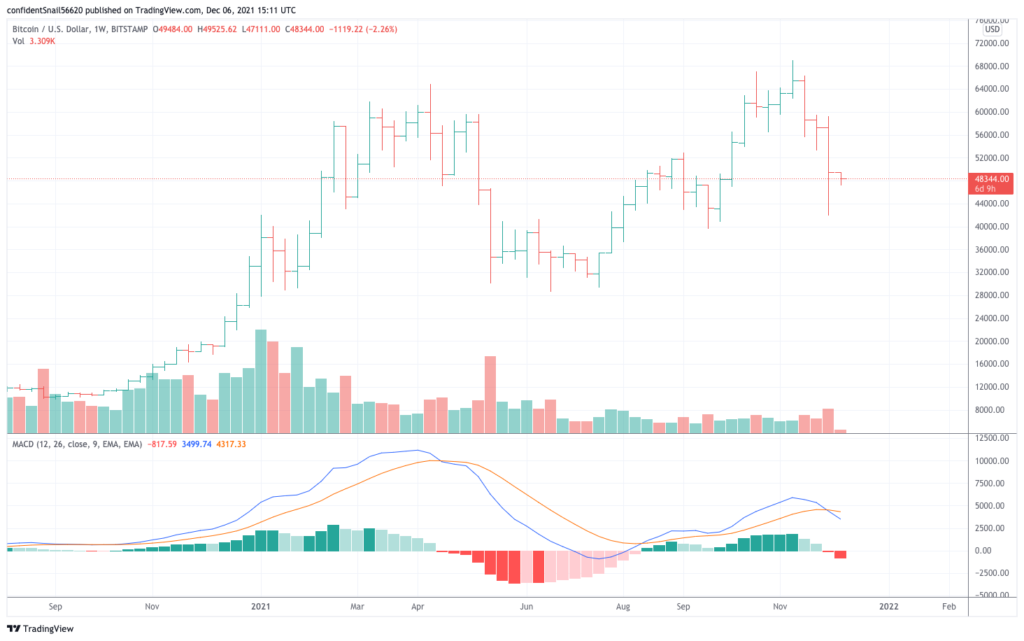 There is one market that appears to have a severe case of holiday blues, though, and that is Bitcoin.  After recording a high of $69,000 at the beginning of November, at the extreme thus far, this showcase cryptocurrency has lost over $27,000, or around 6%. Talk about getting a few lumps of coal in the Christmas stocking.  I was under the impression that this was going to be the next great hedge against inflation and economic uncertainly, replacing the traditional favorite, Gold.  In fairness, Bitcoin is still up 47% for the year, compared with Gold which is sitting around 6% lower for the year, but I suspect many will not have the stomach to weather that kind of volatility.
It would appear that large speculators were in liquidation mode last week, which certainly would not come as a shock for this time of year.  They were net sellers of over 16,000 contracts of wheat (Chic & KC), almost 42,000 contracts of corn, just over 11,000 beans, 19,000 bean oil, and 16,000 meal.  They continue to hold a sizeable long position in corn of around 221,000 contracts, but the long position in beans has now been reduced to just over 6,500 contracts.
We do have a supply/demand report on the calendar for this coming Thursday, and here are the trade estimates I have seen thus far.  2021/22 corn ending stocks are expected to come in at 1.487 billion bushels, beans at 352 million, and wheat at 589 million.  In November, the USDA had these pegged at 1.493, 340, and 583.  World ending stock are expected to come in at 304.47 MMT for corn, compared with 304.42 last month, beans at 104.13 MMT versus 103.78, and wheat at 276.3 MMT instead of 275.8.
In the macro scene this morning, we have energies higher, metal lower, and financial instruments lower.  The U.S. Dollar, which had recovered enough by last Friday to close higher for the week, has extended those gains this morning, and the S&P 500 appears to have shaken off its two-week case of holiday flu and has pushed higher as well.