I suspect it is probably classified as one of the one-hit-wonders, but back in the early 1970s, a band by the name of Stealers Wheel made the pop charts with the song, Stuck in the Middle With You.  The song's chorus was, "Clowns to the left of me! Jokers to the right! Here I am, stuck in the middle with you." It would appear that today, we can paraphrase this chorus to; Bulls to the left of me! Bears to the right! Here I am, stuck in the middle with you.  Granted, I would much prefer to be stuck in the middle at the price levels we are trading at today than back between 2014 and 2020 when we were stuck in the basement.  That said, as all who are in production ag are painfully aware, as the price of input continues to escalate, before long we may soon not be any better off when it comes to returns.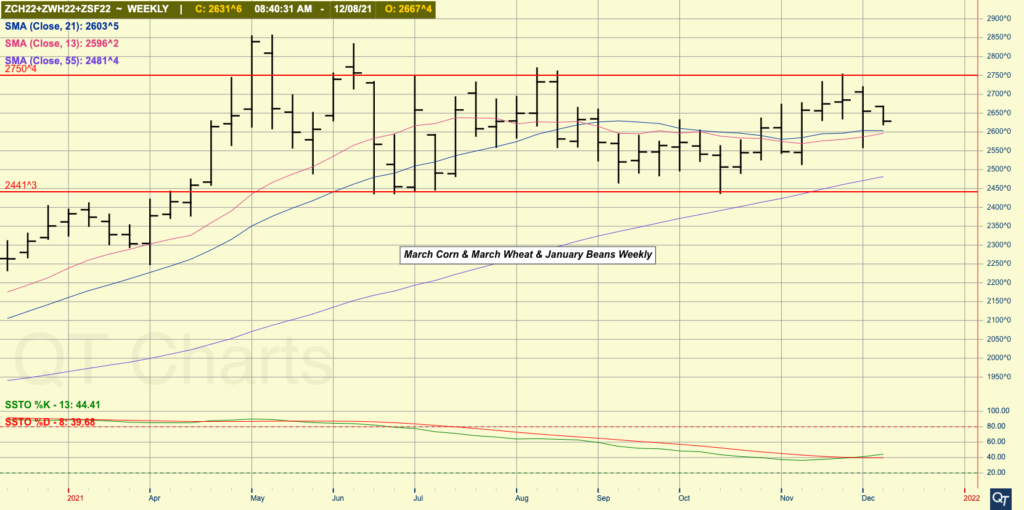 While it was common knowledge that Mexico had been shopping around the U.S. for corn this week, it was still pleasant to see the quantity of corn they snapped up.  A total of 1,844,040 MT, of which 1.09 MMT is for the current crop year and the balance for 2022/23.  This appears to have been enough to lift corn back to the unchanged level, at least briefly. There was also a sale of another 130,000 MT of beans to China, which was greeted with a collective yawn.
There was an interesting piece from Reuters this morning reporting that in 2020, for the first time in 15 years, India surpassed Brazil as the top food supplier to the 22 members of the League of Arab States. India grabbed 8.25% of the market, while Brazil took 8.15%.  While there was not a significant price differential at the farm level for either country, logistics came into play, which favored India.
It is Wednesday, so the overall news is a bit sparse this morning, even on the economic front.  In the macro trade, we have energies soft, but this after a solid three-day advance. Metals are lower, Bitcoin a pittance higher, and the dollar soft after several days of strength.  Equities are holding onto gains after the significant advance yesterday, and financial instruments are under pressure.  It would appear that the bond and note markets have now decided, the Omicron or note, the Fed is serious about the tapering process.