Grain and soy prices have been zig-zagging lower now for the past 9-weeks or so, with each commodity taking its turn leading to the upside or down.  The group is trading higher for the week, but even then, have not quite recovered all of the previous week's losses.  By no means should this type of action be considered unusual for this time of year, as the holidays will often do little more than help separate traders from their capital.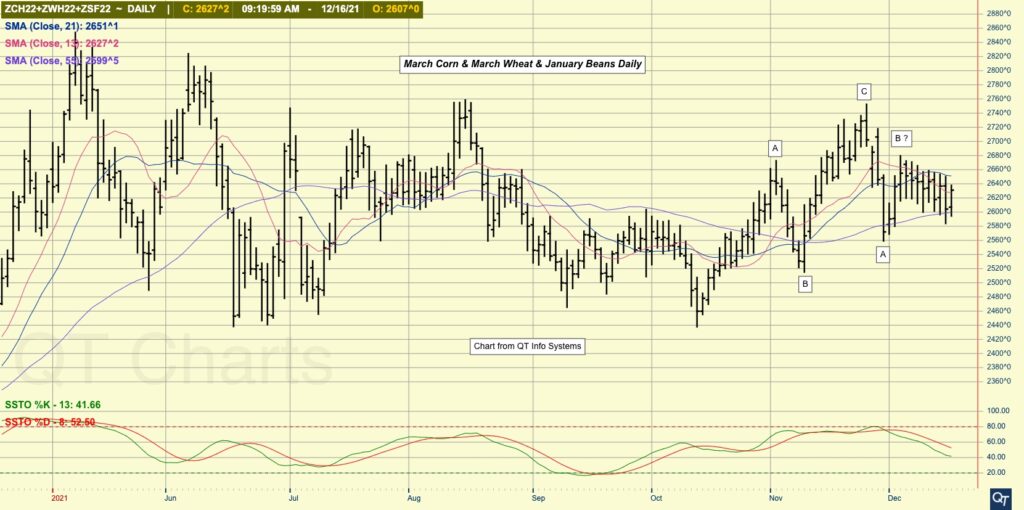 We knew that weekly corn sales would be solid with the recent Mexican buying spree, and China has remained active in the bean trade. Still, the most pleasant surprise award will be awarded to wheat, and they certainly need some words of encouragement.  For the week ending the 9th, we set a new marketing year high with sales of 650,600 MT or 23.9 million bushels of wheat.  Mexico was the top purchaser with 170k MT, followed by Japan, taking 162.5k, and then Peru in for 105k.  Corn sales fell just short of the 2 million mark with a total of 1,984,700 MT or 76.7 million bushels.  Mexico accounted for 66% of the total with 1.289 MMT, followed by Canada with 272.6k and unknown destinations taking 141.9.  There were also 754.4k MT of sales to Mexico for the 2022/23 crop year.  Soybean sales actually slipped 20% for the week but still total 1,308,600 MT or 48 million bushels.  China accounted for 75% of the total with 985.8k MT, followed by Spain with 80k and Mexico taking 77.7.  In the meat trade, beef sales bounced back to 17,100 MT, and pork sales jumped 58% to 31,100 MT.
Fed Chairman Powell confirmed what everyone was anticipating yesterday, as the Fed will now speed up the tapering process, opening the door at potentially a couple of interest rate hikes in 2022.  Equity markets greeted the news with a reversal higher, which has now extended to this morning.  We are now higher for the week, and the S&P 500 has extended into another new record high.