We are soon to wrap up (Christmas pun) the final full week of the calendar year 2021, and surprise, surprise, prices for the grain and soy markets have not really gone anywhere.  If we were to close right now, for the week, corn would be down 1-cents, Chicago wheat would have slipped 12-cents, and beans gained 9-cents for a combined loss of 4-cents.  That sounds about as exciting as the actual chore of wrapping presents.  While there is always the potential for a surprise, one has to suspect the final two shortened weeks of the year will enfold with similar directionless trade.  I would point out that we are on track for the bears to have the Christmas turkey after the bulls enjoyed it for Thanksgiving, but it would appear to be a pretty scrawny bird this year.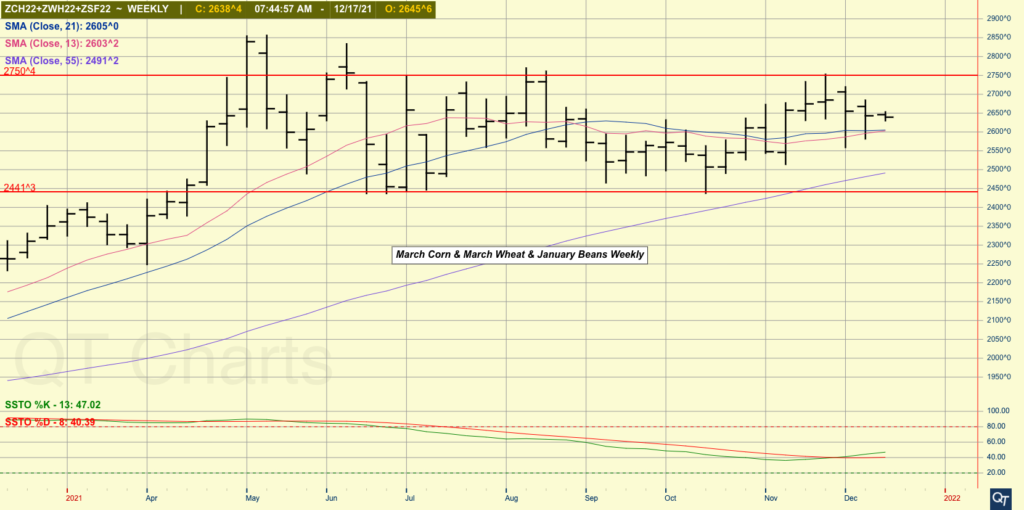 We do at least have a couple of export sales announced to wrap up the week with.  Overnight, India has purchased another 33,000 MT of bean oil, and China was back in for another 132,000 MT of beans (yawn).
IHS Markit (Informa) has updated various estimates this morning.  They have kept their Brazilian bean production figure at 145 MMT but lower the first season corn number 1.2 million to 28.3 MMT. Closer to home, they bumped the projected U.S. corn acreage to 91.578 million acres from 90.784 and took beans to 88.815 million from 87.935.  Last year we planted 93.3 million corn and 87.2 million beans.
News is virtually non-existent on the economic front as well.  The Bank of England did beat the Fed to the punch by hiking interest rates over there by 15 basis points, taking it up to .25%.  Take that inflation. Obviously, financial instruments are not overly concerned that this will prompt the Fed to speed up their plans as prices are higher this morning, with 10-year notes having now erased all of the last weeks' losses. In the rest of the macros, we find energies under solid pressure, metals higher, Bitcoin lower, equities lower, and the U.S. Dollar higher.