It would seem that markets, in general, were suffering from a case of the Omicron Blues yesterday as we grapple once again with the possibility of canceling holiday gatherings, sporting events, limiting indoor exposure, and seeing health care systems, not to mention workers being pushed to the brink.  Certainly not something anyone had on their Christmas wish list this year.  As it turned out for many markets, though, once the early pressure was out of the way, we witnessed decent recoveries, which for many have extended into today as well.  When it comes to the grain/soy trade, by no means are we doing anything that would be interpreted as new and exciting, but bulls seem determined to try and spread as much holiday cheer as they can.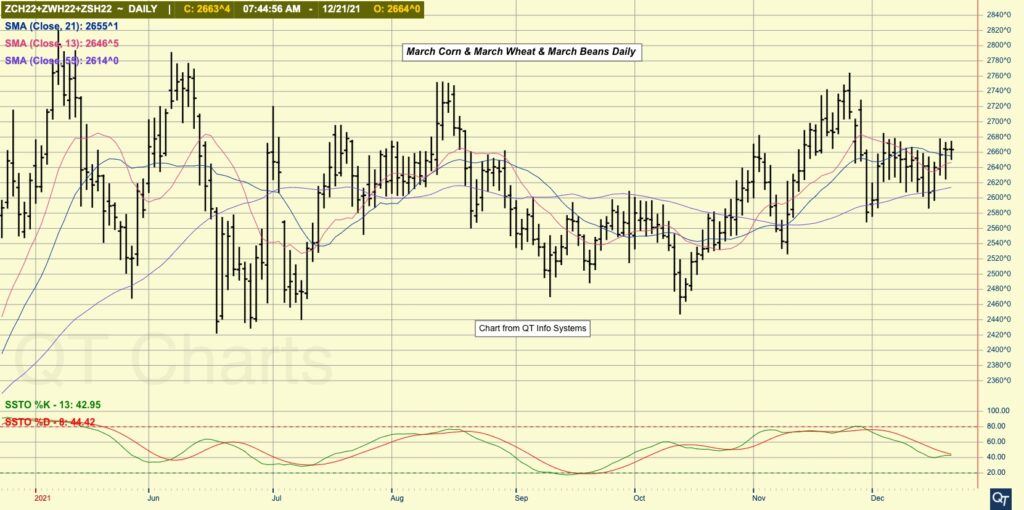 Just about the only ag-related updates worth passing along this morning come from South America.  Brazil continues to experience a pattern of adequate to excessive moisture in the Northern portion of the nation with dry conditions to the South.  This week Dr. Cordonnier lowered his Brazilian bean estimate 2 MMT to 142 MMT and dropped corn another million to 115 MMT.  For Argentina, where beans are now 65% planted, he lowered his estimate 1 MMT to 49 MMT but left the corn figure at 53 MMT.  Corn planted there rose to nearly 48% complete, compared with an average of 60.6%.
In economic news, the Commerce Department released numbers for the third quarter, Current Account Deficit, which rose to a 15-year high of -$214.8 billion.  The figure for the second quarter was also raised to $198.3 billion compared with the original estimate of $190.3.  At first blush, this would sound like bad news, but one needs to keep in perspective that it reflects an effort to resupply depleted supply lines.
In the macro world this morning, we find energies higher, metal firm, equities higher, the dollar flat, and financial instruments lower, which is just about every case, is unwinding a portion of Monday's action.