While it has been used for any number of retail marketing campaigns and at least one Hallmark movie, 2021 appears to have turned as "A Christmas To Remember" for the bulls in the grain and soy market.   Prices have been able to extend to higher highs for this swing again this morning, and for the group, we are celebrating around the same prices levels we were back at Thanksgiving.  At this point, it would appear that we could keep the party going right into the end of the year, but keep in mind that snacking on too many goodies at this time of year can not only lead to unwanted weight gain, you may also end up with a bad case of indigestion.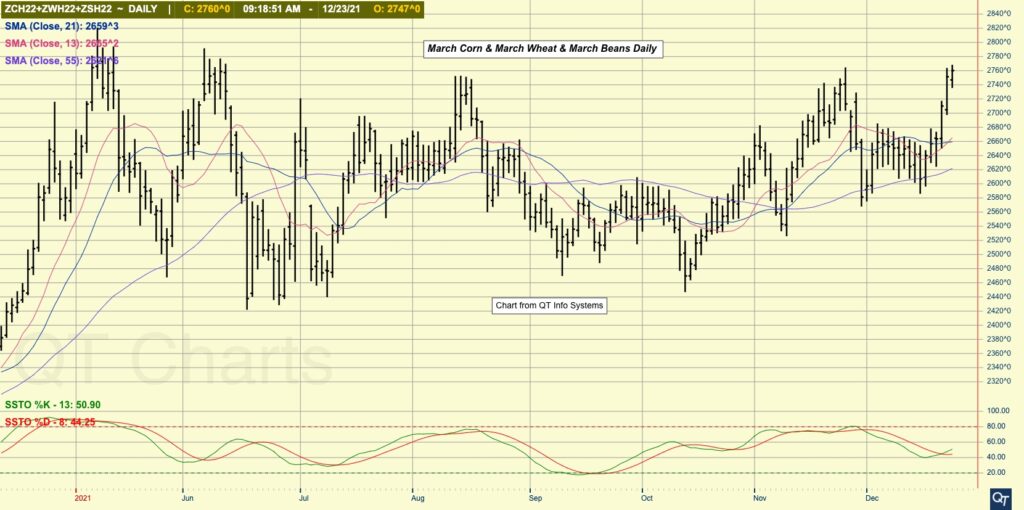 Even when there is little else in the news to talk about, we can count on the weekly updates for exports sales to keep us abreast of the business we are doing around the world.  It is not that we often find any shocking news with the report, and this week was no exception, but trends can and do become evident.  For the week ending December 16th, we sold 425,400 MT or 15.6 million bushels of wheat.  This was down 35% from the previous week, but still 11% better than the 4-week average.  Japan was the lead purchaser with 130.5k MT, followed by the Philippines, taking 105.5k, and then Mexico in for 35k.  At face value, the corn sales would not be considered poor, but they did drop 50% for the week, coming in at 982,900 MT or 38.87 million bushels.  This was also 29% below the 4-week average.  Here as well, Japan was the top purchaser with 345.7k MT, followed by Mexico for 258k and then Canada buying 216.7k.  While not unexpected, beans dropped to a marketing-year low of 811,500 MT or 29.8 million bushels.  China accounted for 90% of this total, or 730.4k MT.  Mexico purchased 95.1k MT and Egypt 94k.  I would point out there were nice sales posted in a few others this week, and sorghum set a marketing-year high of 422,100 MT.  Not unlike beans, though, if it were not for China, which accounted for 98% of the total, things would look far less impressive.  At the meat counter, beef sales were down 30% to 12,000 MT, and pork sales slipped 8% to 28,800 MT.
We have a slew of economic reports released this morning to wrap up the week, none of which were terribly exciting.  The November Core PCE Price Index rose 4.7% year over year, which was a touch higher than the expected 4.5%.  Personal Income for November rose .5%, and Personal Consumption Spending increased .6%.  New Home Sales for the month rose 12.4%, and the University of Michigan Consumer Sentiment Index for December increased just slightly to 70.6.  The weekly initial jobless claims were unchanged at 205,000.
In the macro trade, we find steady to higher action in energies, with crude on track to recover last week's losses.  Gold is higher for the day but is little changed for the week. Bitcoin is soft this morning but higher for the week, and financial instruments are on track to close lower for the week.  Finally, in equities, we have strength this morning, and we are on track to rival the highest weekly closes for the year.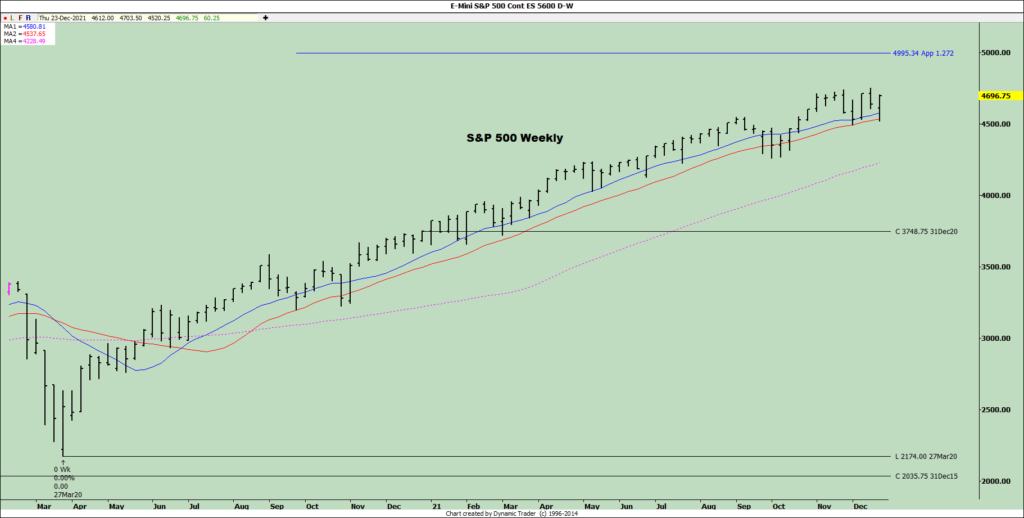 Last but not least, we wish you all a Very Merry Christmas!