According to the carol, on the third day of Christmas, the 27th, the gifts should include, Three French hens, two turtle doves, and a partridge in a pear tree. Obviously, in 2021 this was not sufficiently generous enough as grain/soy bulls have included a push into higher highs for the corn and wheat markets and double-digit gains for soybeans. Granted, South American weather concerns have been cited as the stimulus, not some attempt to play out an 18th-century poem, but one has to suspect that the lighter than normal holiday volume has aided the generosity.  Prices appear to have cooled off now after the morning break, and I, for one suspect that after this holiday cheer has run its course, there will be a day of reckoning for the bulls.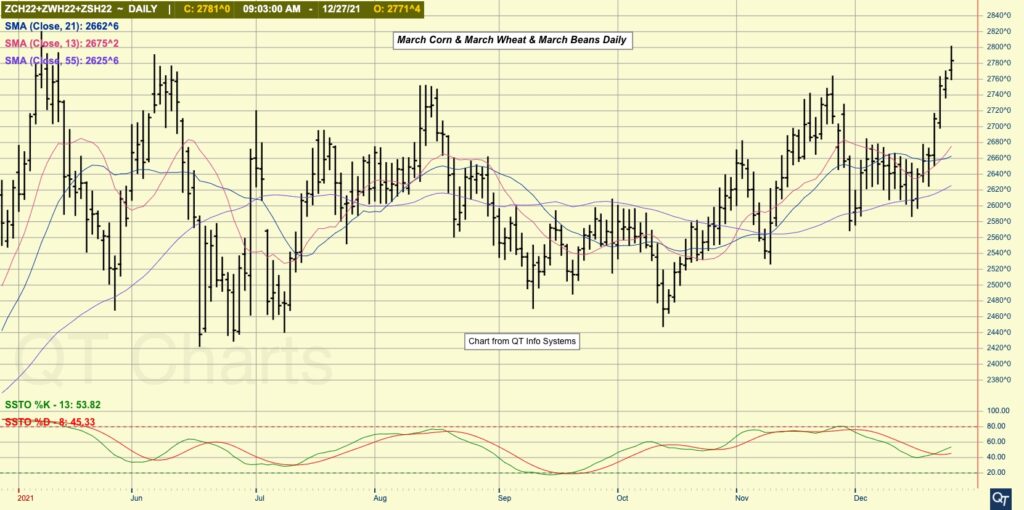 As I remarked initially, increasing concerns with South American weather, particularly in Argentina, appear to be encouraging the current buying spree as markets attempt but build in a bit of risk premium.  Southern Brazil has still been short on moisture, but not to the extent of their southern neighbors, and central and northern Brazil continue to receive ample rainfall.
We have at least started out the week with an export sales announcement.  The USDA reported that 269,240 MT of corn was sold to unknown destinations, received during the reporting period.
In the macros this morning, we find equities higher, the dollar firm, and financial instruments generally flat.  Energies are firm, metal mixed, and softs flat.  I do think it worth pointing out the commodity indexes posted a solid reversal last week, largely led by a recovery in energies.  While the advance has not been enough to turn indicator higher, and we remain under highs for the year, it would seem to suggest that bulls are not going to give up without a fight.