While we did hesitate a bit when the sun came up, the fourth quarter bean rally has extended with a push overnight to the highest point traded in spot futures since prices gapped lower (13.95/13.86) on the weekly chart back in August.  In the process, we have also completed a 38% retracement of the 2021 high to low range and have pressed back against the 55-week moving average for the first time since Labor Day.  While weekly stochastics are still pointing higher, but weekly oscillators are pushing against the roof of the overbought zone, so if we cannot keep feeding these bulls with fresh fodder each day, which at this point is primarily South American weather concerns, it would appear we are reaching the exhaustion phase of this rally.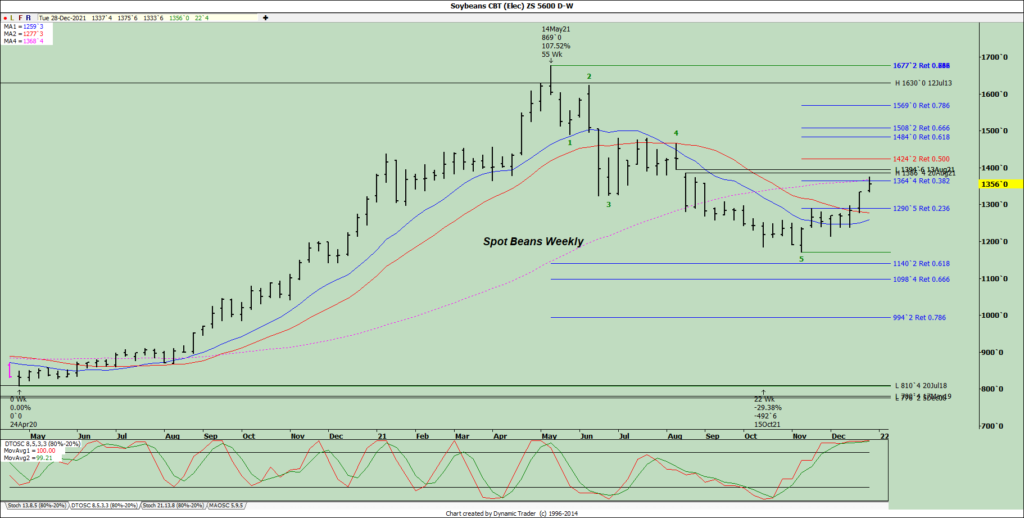 While most of the weather discussions in the southern hemisphere have centered on Argentina, Southern Brazil is having its share of troubles. Dr. Cordonnier noted this week that some areas had not witnessed measurable rain in over 60-days. In one municipality where the harvest of some short-season beans has begun, bean yields are expected to be down 65% and corn as much as 85%. This week he lowered his bean crop estimate 2 million to 140 MMT and took his corn estimate down 1 million to 114 MMT. In Argentina, where beans are now 73.3% planted, Dr. Cordonnier lowered his beans and corn production estimates by 1 million for each crop to 48 MMT and 52 MMT, respectively. Do keep in mind, these are by no means disaster projections. Last year Brazil produced 138 MMT of beans and 87 MMT of corn, with Argentina raising 46.2 MMT of beans and 50.5 MMT of corn.
In economic news this morning, we find the Case-Schiller Home Price Index release for October.  Year over year, prices are up 18.4%, and month over month, up .8%.  The Redbook Retail Sales figures were also released, and during the first four weeks of December, sales were 17.3% higher than a year ago.  Finally, the Richmond Fed Manufacturing Index for December came in at +16.0, compared with the expected +12.0, the manufacturing Shipments Index was +12, versus +4.0 the previous month, and New Orders posted an impressive +17.0 compared with the prior figure of 5.0.
In macro trade this morning, we find energies and metals higher, Bitcoin under pressure, financial instrument positive, and the dollar higher.  In the equity trade, both the DJIA and the S&P 500 have moved into new record highs once again, and NASDAQ is just about to knock on that same door.