We are just a few short hours before wrapping up trade for the calendar year 2021. Looking at where markets are sitting compared with the end of 2020, it would appear to have been a year for the grain trade. If we wrapped up the action right now, spot corn futures would be up $1.12 for the year. Chicago wheat futures are currently up $1.31, Kansas City wheat is up $2.00, and Minneapolis is leading the pack with a gain of $3.90. Whoops, I best not leave oats out of the mix as spot futures are up $3.25 for the year, which in this case is 190% higher from where we stood a year ago and at record levels to boot.  And you thought horses were expensive to keep before.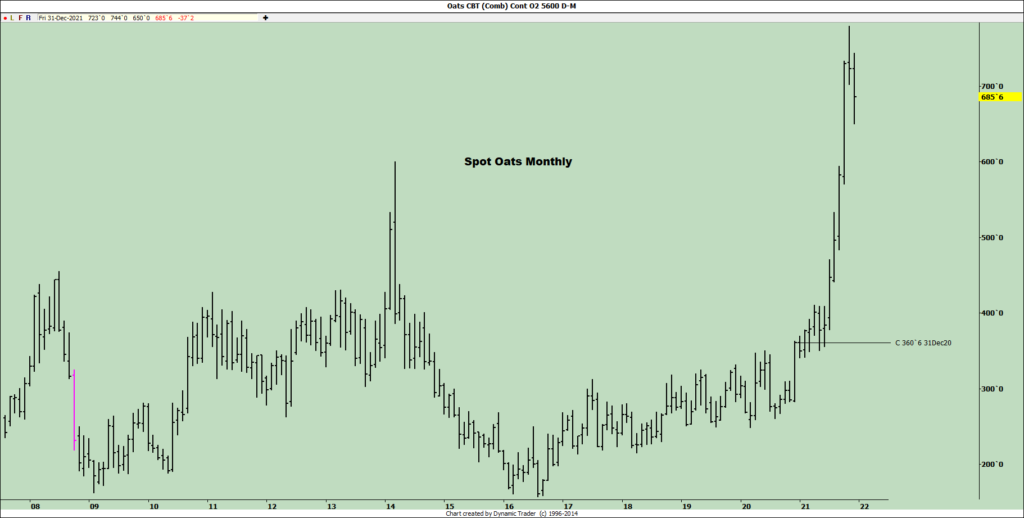 The one that might surprise everyone, though, is soybeans. Spot futures are currently just $.20 higher for the year. Yes, this market did have a head start on the others last year and back in May, traded as much as $3.40 higher than the current value, but nevertheless, the overall performance would have to be considered less than impressive. While that may or may not have much bearing on what 2022 will hold in store, I suspect without a REAL issue with the South American crops, it may not be a good omen. Sorry, I did not really intend to be a Dan-Downer for the end of the year.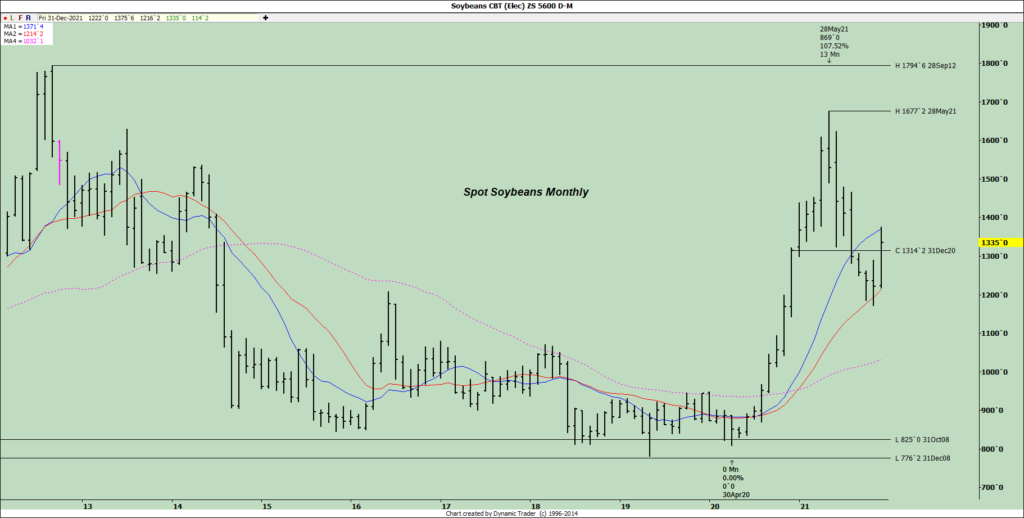 As you might have already expected, the overall news is sparse this morning.  The weather outlook for South American is unchanged, with increased chances for moisture in South Brazil and part of Argentina on tap for next week.  The Buenos Aires Grain Exchange reports that corn planting is 66.5% complete and rates the crop 58% good/excellent, 34% fair, and 8% poor/very poor.  That was a slide of 19% from the previous week.  Soybeans are now 81.4% planted and rated 56% good/excellent, 36% fair, and 8% poor.
Macros are pretty quiet as well as we mark down the minutes to year-end.  Energies are soft, metal higher, Bitcoin and financial instrument are firm, and the dollar and equities are soft.  I will cover the annual performance of these and other markets in the weekly letter.
Last but not least, I wish you all a Safe and Happy New Year.