It would appear that bulls in the grain/soy complexes have decided to extend their New Year's celebrations right into the opening hours of trade for 2022.  That I can see, there is little in the news that would seem to have stimulated the enthusiasm, so one has to suspect it is an effort to claw back some of the losses incurred late last week.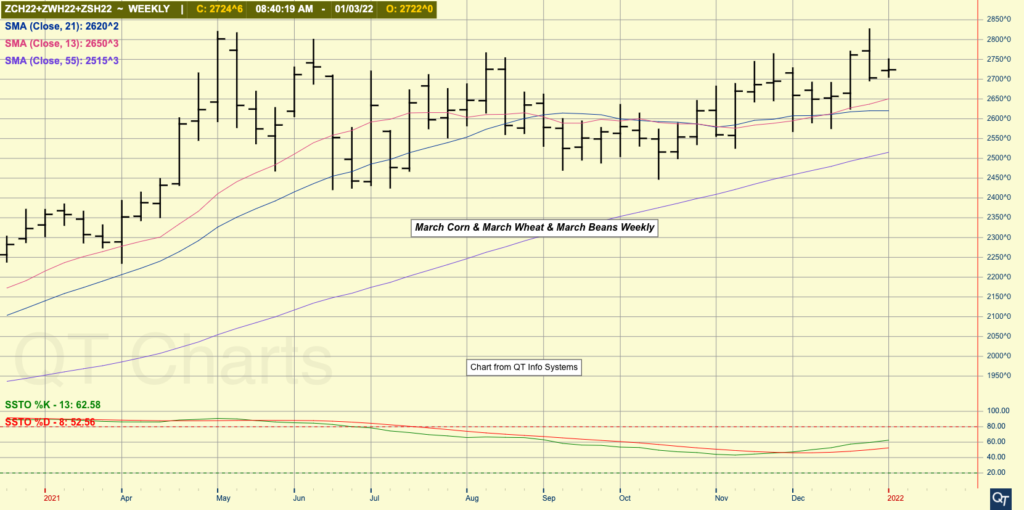 South American weather does and will remain a hot topic, no pun intended. Still, with rains on tap for the next week to 10-days in Southern Brazil and parts of Argentina, generating an overabundance of fresh buying may be challenging. Just nine days (seven sessions) from now on the 12th, the USDA will release the fourth quarter grain stocks, the 2021 final production estimate with corresponding supply/demand, and the winter wheat seeding estimates, and it is not inconceivable to think prices could remain in a state of limbo between now and then. Oh, by the way, there is no news from Washington this morning as federal offices are closed due to winter storms. I am almost ashamed to use this line because it is too easy, but I can't pass it up either. We are only one business day into 2022, and the USDA has already given us a snow job.
Of course, the same applies to economic releases this morning, which has left many of the macros floundering. Initially, equity prices were higher but have since turned lower for the day. Energies have traded on both sides of unchanged and are now flat, and metals are under decent pressure. Bitcoin is higher, but the largest swings appear to be in the dollar, which is strong, and financial instruments, which are sharply lower. It would appear these markets are getting positioning for the Fed to follow through on promised rate hikes as the year progresses. Happy New Year.