On the 11th day of Christmas, spec funds gave to me, a limit higher move in corn. While those words do not flow together quite as well as the original Christmas song, in a nutshell, it does pretty much spell out what happened in the corn market yesterday. Yes, the ongoing saga of lousy weather in Argentina and, to a lesser extent Southern Brazil, provided the spark to ignite the buying, but obviously, even a limit move did not translate into follow-through strength. Granted, we could still see buying emerge, particularly on weakness, but I would point out that even with that impressive strength, corn did not quite return to the previous week's highs and appears to be in nothing more than a corrective advance. That said, it is certainly not inconceivable to think that this market will continue to track sideways to higher for the next several months as we watch not only the development of South American crops but set the stage for spring planting in the Northern Hemisphere.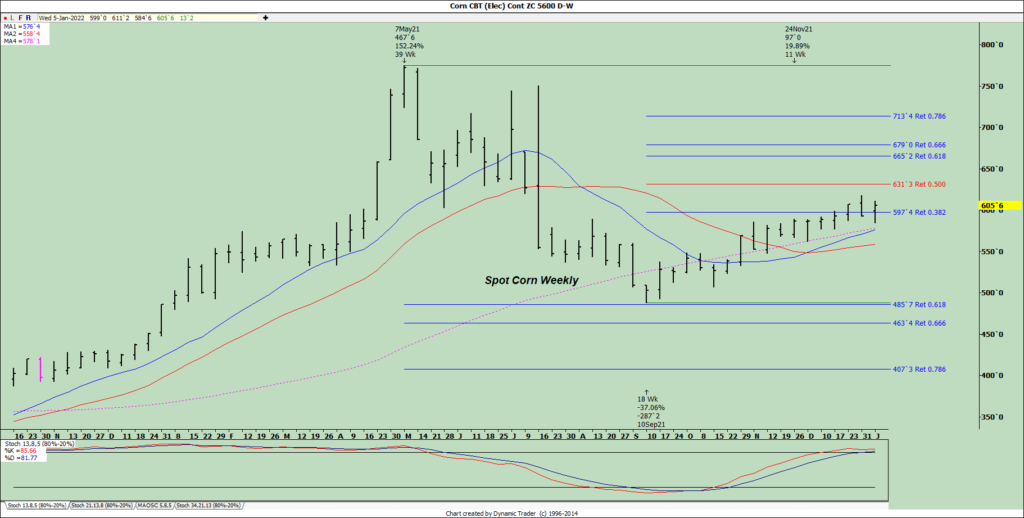 We did finally have the first export sale of this new year reported this morning.  Unknown destinations stepped in to purchase 132,000 MT of beans, but the sale was for the 2022/23 crop year.  One has to suspect that with Brazilian beans soon to be available to the world market, demand will slowly but surely turn in that direction.
We are still a week away from the big "word of gov." releases on the 12th, but it is not difficult to imagine prices will be little more than a choppy affair between now and then. We should begin seeing trade estimates before week's end.
There is little to report on the economic front either this morning and in the macro markets; we have financial instruments stable after several days of solid pressure, equities are a mixed bag again, with the DJIA higher but the S&P and particularly Nasdaq struggling. I guess the tech world is out of vogue this year. The dollar is weak, Bitcoin is firm, and metals are higher. Finally, energies are higher for the third day in a row and have posted higher highs in each of the past three weeks. Opec+ has announced they plan to "stay the course" with a gradual increase in output in the months ahead, which was enough to keep potential bears sidelined for now.