It is not that there has not been a bit of excitement here and there, but it would appear that trade in the grain/soy sector for this first week of 2022 will have turned out to be rather uninspired.  Yes, we are higher as a group led by soybeans which are currently up 40-cents, with corn being tugged along and now sitting around 8-cents higher for the week, but then we add wheat to the mix.  Chicago futures are currently around 26-cents lower for the week and sitting at the lowest point traded since October.  There is no real surprise here as beans and corn are building in a bit of South American weather risk premium as crop estimate for that hemisphere continues to be trimmed, but if that momentum can continue may be significantly influenced by what Uncle Sam has to tell us next week.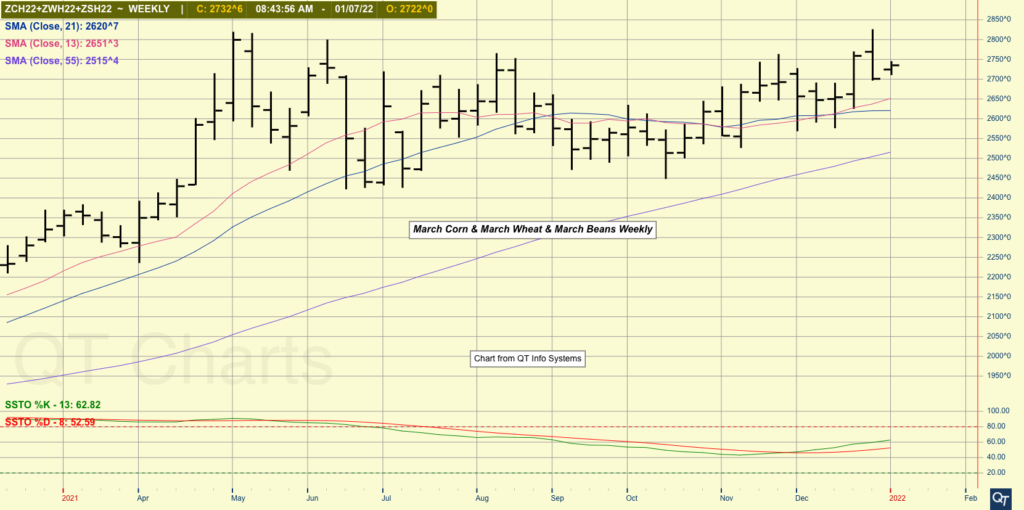 With that in mind, here are some trade estimates for next week's reports that are now making the rounds. The final corn production estimate is 15.07 billion bushels, coming from a yield of 177 bpa. This estimate is essentially unchanged from the November report. Bean production is expected to total 4.433 billion bushels from an average yield of 51.3 bpa. In November, the USDA had this pegged at 4.425 and 51.2. The 2021/22 ending stocks are expected to come through at 1.472 billion for corn, 348 million in beans, and 608 million for wheat. On the December report, these were pegged at 1.493, 340, and 598, respectively. December 1st grain stocks are expected to show a corn inventory of 11.6 billion bushels, 3.129 billion beans, and 1.421 billion wheat. Total winter wheat seeding is expected to be 34.255 million acres, comprised of 24.034 million hard red, 6.555 million soft, and 3.577 white. The average estimate for Brazilian production places beans at 141.62 MMT and corn at 116.17. For Argentina, the trade expects to see bean production of 48.11 MMT and corn at 53.59. Last but not least, for global ending stocks, the average estimate is 304.08 MMT for corn, 99.93 MMT for beans, and 278.67 MMT of wheat. In December, they were pegged at 305.54, 102, and 278.18. Needless to say, we will have a lot of information to try and digest next Wednesday.
The USDA did report a couple more export sales to round out the week. Mexico purchased 176,784 MT of corn, and 120,000 MT of beans were sold to unknown destinations. Pretty routine business.
I will go into a bit more depth on this in the weekly letter, but Labor Department released jobs data for December this morning, showing 199,000 jobs created for the month, which was down from 249,000 in November. The means the monthly average for 2021 works out to 537,000 new jobs per month. The unemployment rate dropped .3% to 3.9%.
In the macros this morning, we find energies soft, metal higher, financial instruments, equities, and the dollar and bitcoin all lower. I would point out that of this group, the most notable action came in the financial instruments.  10-year notes pressed into lower lows and have dipped to the lowest point traded since December of 2019.