Grain and soy markets were able to finish off last week with a storm of buying, with beans extending to new highs for this post-harvest swing.  It would appear that was a relatively quick-moving storm, though, as after trying unsuccessfully to extend the gains overnight, a few of the bulls have decided to head for the exits and wait for the next forecast to arrive.  As far as actually weather forecasts are concerned, it sounds as if weather conditions in Brazil continue to improve, but Argentina has at least another week of hot and dry to suffer through. I will point out that with that extension into new highs, spot bean futures have reached up to fill a gap that was left on this weekly chart back in August, between 13.95 and 13.86.  There is nothing in the action this morning to suggest that was the final hurray, and I suspect we have room yet to extend this advance to the 14.25/14.50 zone, but that may be dependent on what Uncle Sam has to tell us on Wednesday.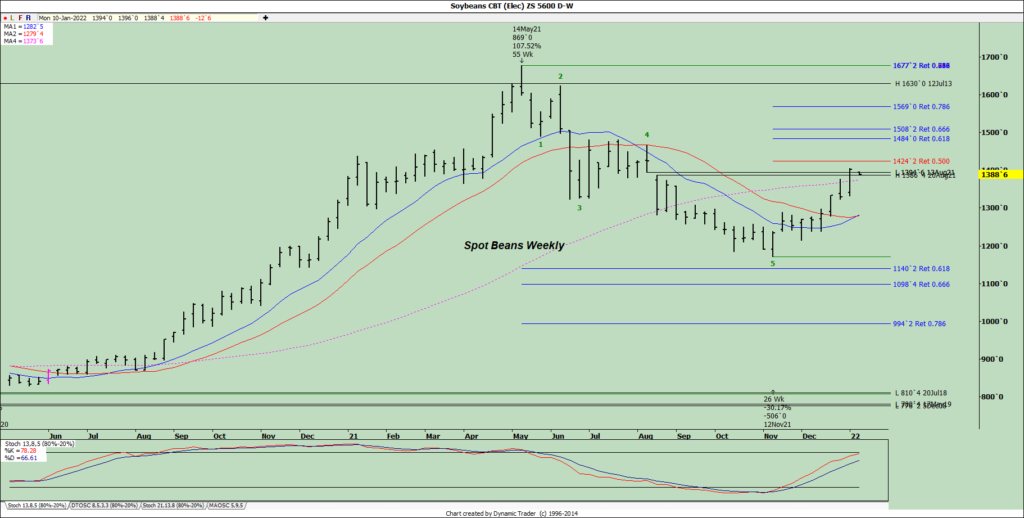 Here again, are the numbers the trade is expecting to see.  The final corn production estimate is 15.07 billion bushels, coming from a yield of 177 bpa. This estimate is essentially unchanged from the November report. Bean production is expected to total 4.433 billion bushels from an average yield of 51.3 bpa. In November, the USDA had this pegged at 4.425 and 51.2. The 2021/22 ending stocks are expected to come through at 1.472 billion for corn, 348 million in beans, and 608 million for wheat. On the December report, these were pegged at 1.493, 340, and 598, respectively. December 1st grain stocks are expected to show a corn inventory of 11.6 billion bushels, 3.129 billion beans, and 1.421 billion wheat. Total winter wheat seeding is expected to be 34.255 million acres, comprised of 24.034 million hard red, 6.555 million soft, and 3.577 white. The average estimate for Brazilian production places beans at 141.62 MMT and corn at 116.17. For Argentina, the trade expects to see bean production of 48.11 MMT and corn at 53.59. Last but not least, for global ending stocks, the average estimate is 304.08 MMT for corn, 99.93 MMT for beans, and 278.67 MMT of wheat. In December, they were pegged at 305.54, 102, and 278.18. Needless to say, we will have a lot of information to try and digest next Wednesday.
On the export scene, we do have one sale announced to kick off the week. Mexico purchased 132,000 MT of corn, of which 77,000 is for the current crop year and 55,000 for the 22/23 season.
In economic news, November Wholesale Inventories were up 1.4%, compared with the expected 1.2% increase and the prior month at +2.3%. Wholesale Sales rose 1.3% compared with 2.2% previously.
We have a lot of red showing up on the screen this morning for the macros. Energies, metals, bitcoin, and financial instruments are under mild pressure. Equities are down sharply. The one exception is the dollar, which has bounced sharply, recovering most of last Friday's setback. I would point out that the dollar has been in a sideways pattern since Thanksgiving. While we could eventually breakout on either end of this congestion range, considering we have seen indicators correct from their overbought position and that we are likely to see an interest rate hike sooner than later, I suspect it will be to the upside.