After three months of generally rising prices, bulls in the grain and soy markets really needed a booster shot of encouragement from the USDA to keep the enthusiasm going, but as we now know, that was not forthcoming. Sure, the USDA did make a reasonably sizable cut to the South American bean production numbers, but seeing we have been trading on that news for a few weeks not, that hardly qualifies as a bullish surprise. By no means does this appear to be a complete capitulation by the bulls, and as I have commented previously, I doubt we have the potential for that to happen for some time yet. Still, we could easily remain stranded in the current price ranges, at least through the acreage reports at the end of March.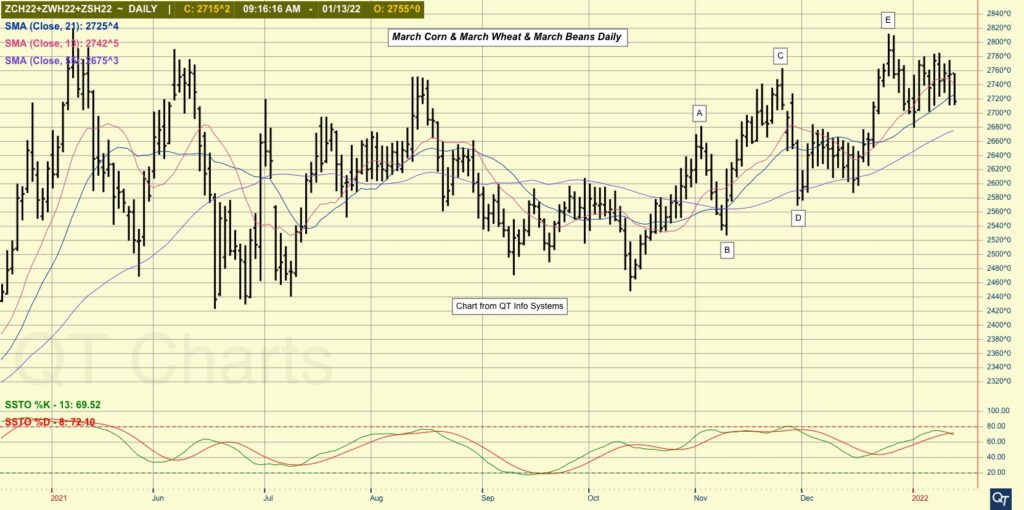 Export sales were a sight better than the prior week, but bulls will little within the numbers to lift any sagging spirits. For the week ending January 6th, we sold 457,700 MT or 18 million bushels of corn. This was still 59% below the 4-week average. Mexico was at the top of the list with 278.8k MT, followed by Japan taking 233k and then China in for 70.2k. There were reductions of 216.3k MT from unknown destinations. Bean sales jumped 92% from the previous week, but that is less impressive than it sounds as we set a marketing-year low the week before. Regardless, we sold a net 735,600 MT or 27 million bushels. China accounted for 41% of the total with 301.8k MT, followed by Mexico taking 187.9k and then Egypt purchasing 175.8k. There were reductions of 109k from unknown destinations. For the 2022/23 crop year, there were sales of 183k MT. Wheat sales bounced back to 264,400 MT or 9.7 million bushels, but this was still 20% below the 4-week average. The top purchaser was the Philippines with 50k MT, followed by Mexico taking 42.3 and then Algeria with 33k. January 1st marked a new marketing year for meats, and we kicked it off with sales of 9,700 MT of beef and 19,800 MT of pork. For the previous year in total, we sold 925,100 MT of beef, which was an increase of 9% from 2020, and 1,791,700 MT of pork, which was down 8% from the prior year. In case you were curious, at the end of the Phase One of the trade deal with China, they have fallen 40% behind on promised purchases. Maybe they had their fingers crossed when they made that promise.
The International Grain Council released updated numbers this morning, lowered the global wheat crop estimate 4 MMT to 781 MMT, and reduced the corm output 5 million to 1.207 BMT.  Strategie Grains also made a few tweaks in their EU crop estimates, which were relatively minor.  Soft wheat was increased 500k to 129.8 MMT, corn was increased 100k to 68.4 MMT, and barley was increased 100k to 51.8.
In the macros scene this morning, we have quite a bit of red showing up on the screen.  Energies and metals are weak, financial instruments are flat, and the dollar and Bitcoin are lower.  In the equity trade, we find the DJIA higher but the S&P and Nasdaq lower.