I must have missed the memo, but obviously, we are celebrating small grains week at the CME.  The corn and the bean complex are under pressure after the extended weekend, but wheat and oats are enjoying renewed buying interest.  We should keep in mind that both these latter markets have generally been tracking lower since Thanksgiving as corn and beans extended higher, so this may be little more than a round of spread unwinding to try and right the ship just a bit.
The pressure in corn and beans has been stimulated by improved weather in South America.  Beneficial rains fell across Southern Brazil and Argentina over the weekend, and the forecast for the next ten days to two weeks appears to hold more of the same.  Granted, this will be too late for some crops to improve yields, but it should go a long way towards stabilizing them.  According to AgRural, 1.2% of the soybeans in Brazil have now been harvested, which pretty much mirrors that average for this time of year.  Wet weather in the north hampered progress, but the forecast in the north is calling for dryer conditions.  Dr. Cordonnier lowered his estimate another million this week to 134 MMT.  The first season corn harvest in Southern Brazil is estimated to be 6% complete, and yield reports have not been good.  Dr. Cordonnier left his estimate unchanged at 112 MMT.  In Argentina, planting of the total corn acres is estimated to be 86.4% complete, but keep in mind that to arrive at this number, we find 95 to 100% planted in southern Argentina and between 30 and 50% planted in the north where conditions have been the driest.
We do have a couple of export sales announced to kick off this week.  Mexico has purchased 239,486 MT of soybeans, and 126,000 MT of sorghum was sold to unknown destinations.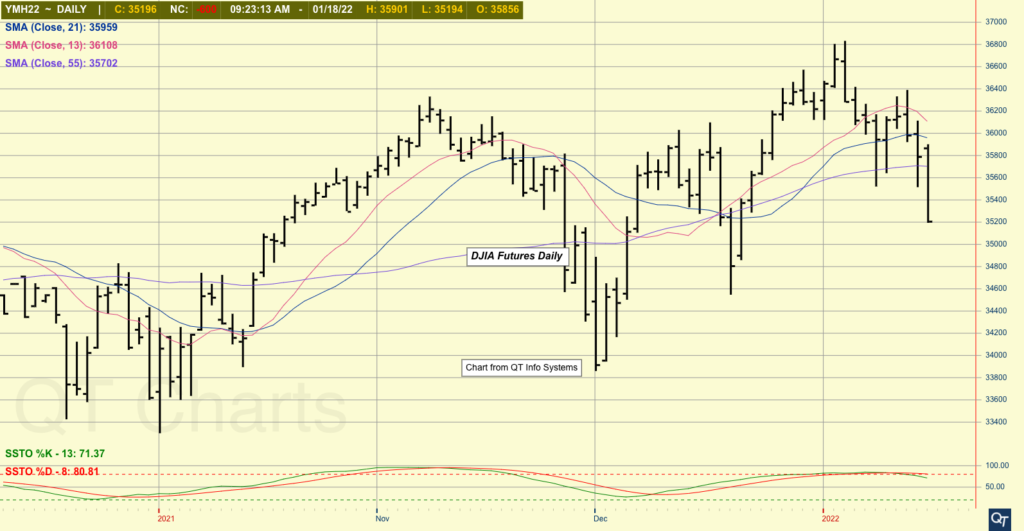 Over in the macro world, we have a severe case of the blues this morning in equities and financial instruments. The DJIA is nearly 600 points lower for the day, and 10-year notes have reached the lowest level traded since August 2019. The break appears to be driven by inflationary concerns and setting the stage for as many as four or five interest rate hikes this year.  Rounding out the rest of the group, we find energies strong, metals flat, Bitcoin under decent pressure and the dollar is strong. That final market may be showing signs that it has corrected far enough.  Higher interest rates should be dollar positive.