After a somewhat discouraging performance last week, grain and soy markets have come roaring back, proving yet again that reports of their death have been greatly exaggerated. There would appear to be little in the news to explain the resurgence in buying interest, so one must suspect it is being stimulated by technical factors, fund money flow, and a desire to invest in commodities as an inflation hedge. Why not be long commodities and short the financial world with all the inflation talk around? While heavily influenced by the ongoing strength in energies, the GSCI has pushed through the existing high set last October, and it will be interesting to see if this strength can be sustained or not.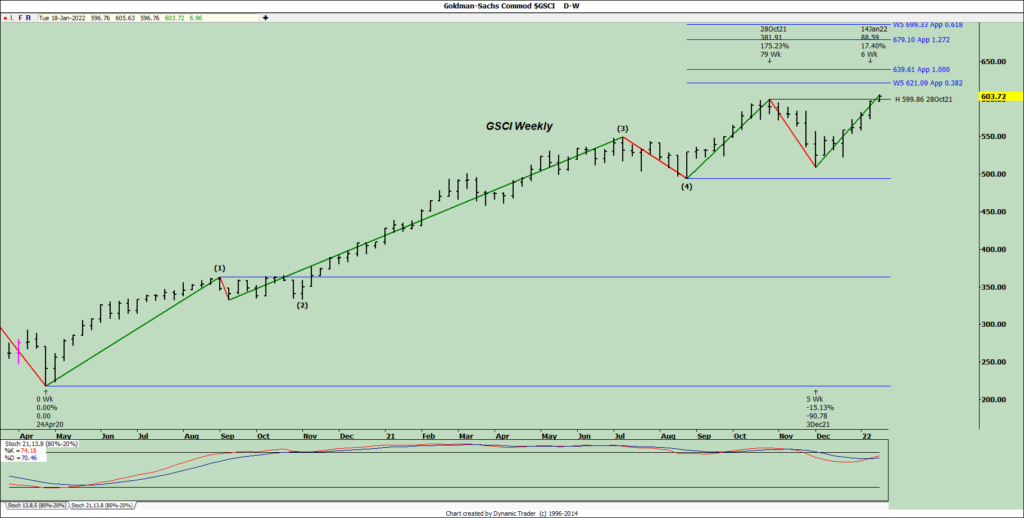 It turns out that the domestic soybean crush plants were busy bees during December as they crushed a record 186.438 million bushels.  The previous record was set in October 2020 at 185.245 million.  Do note that oil inventory at NOPA members rose to 2.031 billion pounds, which was up 10.9% from November and reached the highest level since April 2020.
The weather outlook for South America looks largely unchanged, with generally favorable conditions into the beginning of February.  There is a possibility that a high-pressure ridge could move back into Argentina in early February, but it would be premature to bank on that yet.
China has released year-end data for 2021 corn imports, which set a new record of 28.35 MMT.  This was 152% higher than 2020.  It is worth pointing out, though, that demand did appear to be slowing towards the end of the year.  Imports in December came in at 1.33 MMT, which was down almost 40% from December 2020.  Wheat imports for the year also set a new record of 9.77 MMT.  This was up 16.6% from 2020.
We have a couple of economic reports to pass along this morning.  Housing Starts in December rose 1.4% to 1.702 million units annualized, and building permits jumped 9.1% to 1.873 million units.  Economists were expecting decreases of 1.7% and .1%, respectively, for those reports.  Consumers remain active as the Redbook Weekly Sales figures show that for the first two weeks of January, sales increased 14.8% over last year.
In the macro world this morning, we have energies, metals, and Bitcoin all higher, financial instruments are flat to higher, and the dollar and equities are weak.