This has turned out to be quite a week for the bulls in the grain and soy markets, with impressive gains all around.  If we were to wrap things up right now, March corn would have gained 14-cents, March wheat 40-cents, and March beans 56-cents.  The interesting thing is, though, there would appear to be little news to support the advance, and in fact, much of what has happened this week would appear to encourage the bear.  South American weather has improved significantly, the dollar has rallied, and while export business has picked up from the holiday lull, it is still not overly impressive.  Granted, it is understandable to see markets build in a bit of risk premium as we shift focus to the 2022 growing season, and no doubt, funds have shifted part of their capital back to commodities.  That said, we better find something a bit more nutritious for the bulls soon, or they are likely to become discouraged.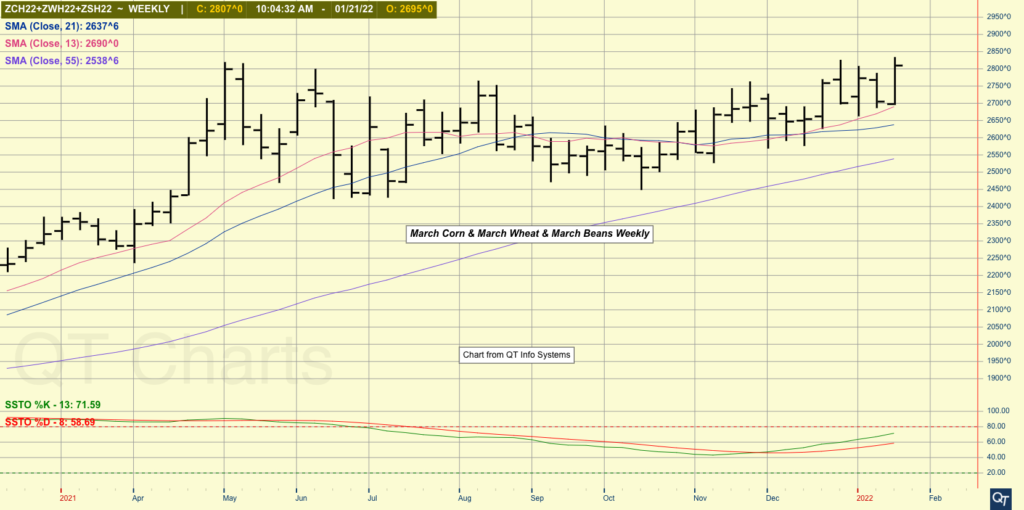 Looking at that export scene, we did have a couple of new sales reported this morning, as well as the delayed weekly report.  China has stepped in to purchase another 132,000 MT of beans overnight, and 247,800 MT of corn was sold to unknown destinations.  The weekly report reveals that wheat sales jumped 44% for the week, coming in at 380,600 MT or 14 million bushels.  This was also 62% above the 4-week average.  Nigeria was the top purchaser with 101.3k MT, followed by Guatemala with 66.6k, and then Japan taking 56.1k.  More than double compared with the previous week at 1,091,300 MT or 42.9 million bushels.  Japan was the top purchaser, accounting for 1/3rd of the total at 370.9k MT, followed by Mexico taking 246.1k and then Colombia with 86.7k.  Soybean sales came in a bit disappointing, though, with a net of 671,000 MT or 24.6 million bushels.  This was 9% below last week.  China did purchase 797k MT during the week, and Mexico was in for 353.7k, but there were reductions of 984.2k MT.  In the meat trade, we sold 12,800 MT of beef and an impressive 38,700 MT of pork.  China was the largest buyer of beef with 3,900 MT and Japan in pork with 21,800 MT.
In the macro world, we find energies and metal soft this morning, but for the week, Brent crude is up a little over $1, and gold is up $25. Financial instruments have rallied sharply this morning, and 10-year notes are now higher for the week. Bitcoin futures are now down almost $4,400 for the week, and the U.S. Dollar is up 40-points. Finally, equities are mixed this morning, but the DJIA is down nearly 1,200 points for the week, Nasdaq is down 870 points, and the S&P 500 is down a bit more than 200 points and at the lowest level traded since mid-October.