The grain and soy markets tried to begin this week on a positive note, but the enthusiasm appeared to fade rather quickly, with only wheat and oats able to remain in positive territory by the morning break.  There was really precious little that could have been interpreted as "bullish" in the overnight news as good rains fell in Argentina during the weekend, and the U.S. Dollar has already pushed through last week's highs and appears positioned to extend from here.  There were a couple of new export sales announced this morning.  Mexico purchased 150,000 MT of corn, and China was back for 132,000 MT of beans, but half of this total is for the 2022/23 crop year.  I suspect we are reaching the point that South American weather becomes less and less of an influence, assuming harvest is not disrupted, which means focus then returns thoughts of spring here in the north.
I would point out that with the exception of Chicago wheat, bean oil, and cotton, large specs were sellers in the rest of the grain/soy complex in the week ending the 18th.  Be that as it may, except for a net short in wheat, they remain long the rest of the markets.
With limited features in the ag sector this morning, I thought it might be of interest to revisit "tales from the crypt" as the cryptocurrency world has provided enough scary trade to dishearten even their more ardent supporters.  Since peaking back in early November just shy of $70,000, Bitcoin is now trading at less than half of that value and is showing little sign of stopping just yet.  And we think commodities can be volatile at times.  I wonder if Elon Musk still thinks this is the preferred form or payment for a new Tesla?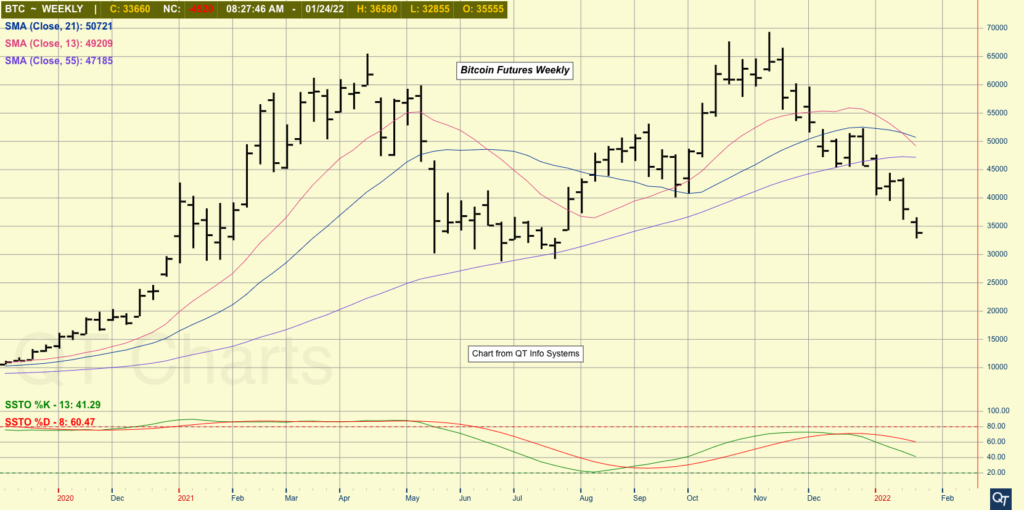 In the rest of the macro world, we find energies under solid pressure, metals are mixed, financial instruments are higher and equities under heavy selling once again.