As I pointed out yesterday, the grain markets have been the undisputed leaders with this late January rally we have been witnessing but gauging from the closing performance yesterday and the action thus far today, they now could be showing us signs that the party is about to end.  Wheat has already wiped out that past day and half of the strength, and corn, after reaching up to complete a major 50% retracement on the spot weekly chart, is also acting just a bit faint.  Longer-term indicators for this market have not quite turned negative but are beginning to tilt in that direction.  Without something fresh and bullish to provide encouragement for the bulls soon, it may be a challenge to sustain the faith in the inflation story, not to mention the market.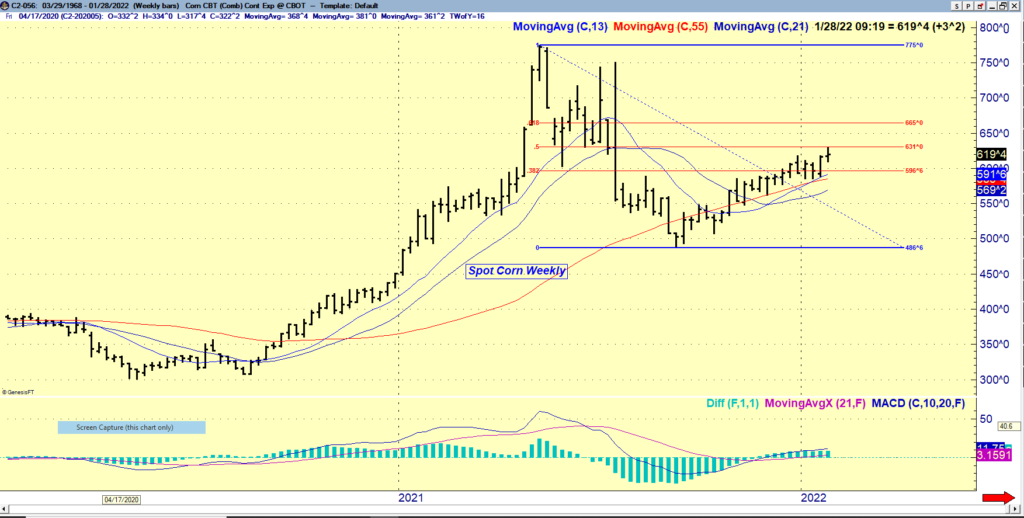 While the first official inkling of acreage and production will not come for another month, the annual outlook forum will be on the 24th/25th of February; I suspect the focus of the market will be shifting to thoughts of 2022 output here in the U.S.   Yesterday, the CEO of ADM stated that they are expecting producers to plant 93 million acres of corn and 87 million acres of beans this year, which is hardly a shocking statement, as that would be virtually unchanged from last spring.  The uncertainty of these numbers, not to mention that of what weather may hold in store for this year, should keep grain, soy, and cotton markets from really getting into a funk.  That said, we have already been playing the South American weather and the inflation cards.  Unless bulls have a few more of these in their hand, it is challenging to think of why we need to go any higher either.
Nothing new to report in the export scene today.  Weekly sales will be released tomorrow morning.
December new homes sales figures were released this morning, and month over month jumped 11.9%.  Economists were expecting an increase of 1.7%.  The median price for a new home in this nation was $377,700, up 3.4% from December of 2020.  Do you think people may have been trying to get a jump on higher interest rates?  I would point out that 30-year bonds have not broken nearly as much as the 10-year notes, and remain well above even last year's lows, and are historically low (rate) by anyone's standards.  Later today, we shall find out what the Fed has in store for us when they wrap up their January pow-wow.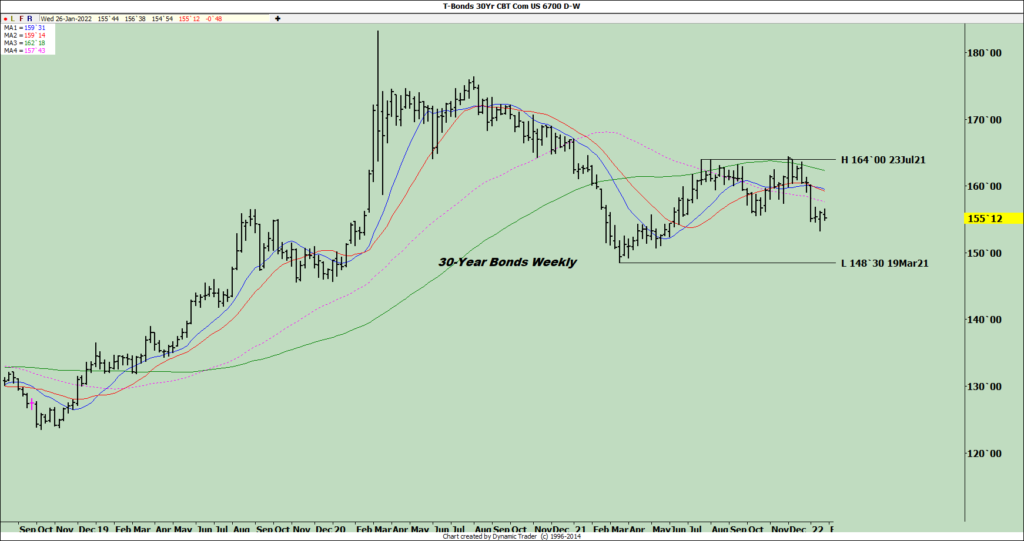 In the macro trade this morning, we find energies strong, metals under decent pressure, financial instruments flat, and the dollar, Bitcoin, and equities all higher.