We have very solid weekly export sales to report this morning and, in fact, a new marketing year high for wheat.  For the week ending January 20th, we sold 676,700 MT or 24.9 million bushels of wheat.  The Philippines were the top purchasers with 111.1k MT, followed by Nigeria, taking 110.3k, and then Japan in for 102.6k.  Corn sales came in right at the top end of estimates with 1,402,300 MT or 55.2 million bushels.  This was 29% higher than the previous week and 84% higher than the 4-week average.  Japan led the way with purchases of 563.7k MT, followed by Mexico taking 266k and then unknown destinations in for 102.1k.  Beans sales fell in the middle of expectation but were still solid at 1,025,500 MT or 37.7 million bushels.  China accounted for 52% of these or 540.2k MT, with Mexico next in line with 345.3k and then Spain taking 105.9k.  Decent sales were recorded in the meat trade as well.  We sold 14,300 MT of beef and 49,100 MT of pork.  China was in both markets, taking 600 MT of beef and 16,900 MT of pork.
As positive as these sales may have been, it has not translated into much in the way of price support this morning.  Wheat is leading the path lower and while corn and beans have witnessed moments of strength, neither acts as if it can be sustained.  As I have noted previously, we have sustained the post-harvest advance primarily through issues/concerns with South American crops, with an end result still unknown and a seemingly daily diet of inflation hype.  Today that came in the form of the Advanced PCE, Personal Consumption Expenditures for the fourth quarter.  The core number rose 4.9%, and the Price Index was up 6.5%.  Regardless, other headwinds are intensifying that should be a tempering factor and all circle back to the impending higher interest rates.  While the Fed chairman Powell did not say anything surprising yesterday, after all, he does not work for the USDA but indeed reconfirmed that they are ready to pull the trigger on higher rates.
Interestingly enough, 10-year notes have rallied sharply this morning, evidently signaling they have already factored in the moves.  Still, the market that has really spiked higher this week is the U.S. Dollar.  With the strength this morning, we have pushed into new highs for the year and to the highest point witnessed since July of 2020.  By no means is there a perfect correlation between dollar strength and commodity weakness, but it would be unusual to see them diverge for long.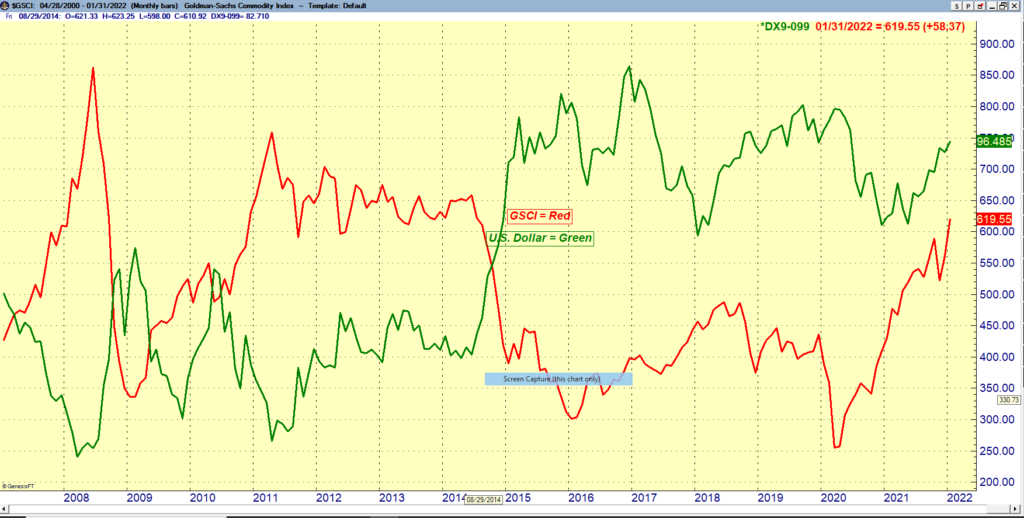 Finally, there is one other market that is worth taking note of.  That is the Baltic Dry Index, which for those unfamiliar, is an index of the average prices paid for the transport of dry bulk materials encompassing 20 routes around the world.  Most recently, this market has witnessed 14 consecutive days in a row of lower closes and, since spiking in a peak back in October at 5650, has now dropped below 1300.  As with any market, there is no doubt a multitude of reasons for this collapse in prices, but one has to suspect it is not a bullish indication for the outlook in global commodity trade.