Forecasts of even lower than expected production in South America have given bean bulls a new lease on life this week, which in turn has helped to lift all the boats in the harbor.  If we closed right now, corn would have gained 14-cents for the week, Chicago wheat would be up 1-cents, and beans would be nearly 60-cents higher.  This sets a new contract high for March beans and, on the spot chart, carries us to the highest level traded since June and to within striking distance of completing a 62% retracement of the most recent high to low range.  While there is nothing in this action to suggest the bulls are content with the progress, keep in mind that we have returned longer-term indicators to the overbought realm, and we will need to provide fresh feed each week to keep them satisfied.  Look for stiff resistance if we reach into the 14.80/15.10 zone.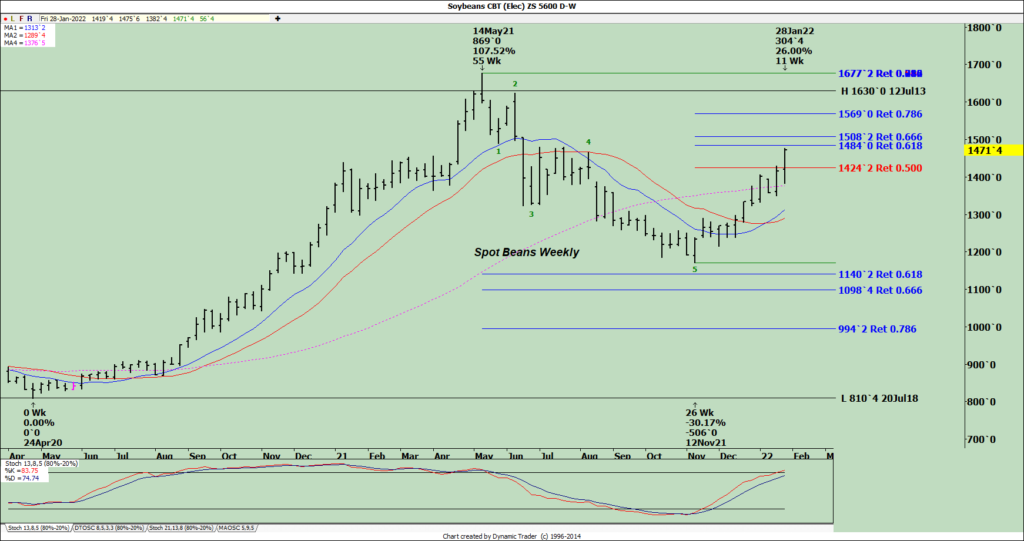 We do at least have a couple of export sales announced this morning to help things along.  251,500 MT of beans were sold to unknown destinations, and 141,514 MT were sold to Mexico for the current crop year.  Additionally, China purchased 264,000 MT of beans for the 2022/23 crop year.
There is nothing terribly alarming in the weather updates unless you are a citrus or sugarcane grower in Florida.  Freezing temperatures are expected there Sunday morning and possibly again into Monday.  Southern Brazil and Northern Argentina are expected to remain dry into the middle of next week.  The hard winter wheat areas of the U.S. are forecast to see snow and maybe a little rain next week before the temperatures plunge again, and another major winter storm could be in store for the Midwest and south late next week.
The BEA reported yesterday that the 4th quarter GDP grew 6.9%, which brings all of 2021 up to 5.7%.  This would be the most robust full-year growth since 1984.  Obviously, this has done little to improve consumer sentiment.  The University of Michigan released their indexes this morning, and January sentiment came in at 67.2 versus the preliminary number of 68.8 and an anticipated 68.5.  Their current condition index had a reading of 72, versus the preliminary 73.2, and January expectation slide to 64.1 from the preliminary 65.9.

In the macro world this morning, we find energies higher once again, metals under pressure, financial instruments flat and the dollar flat, Bitcoin higher and equities mixed.  There is no question that this has been a rather volatile week in the equity markets, but as it stands right now, the S&P 500 is down about 60-points for the week, the Nasdaq is down 425, and the DJIA is down just over 200 points.