It seems we have touched off a race to the bottom, which in this case means everyone is trying to slash their Brazilian beans estimates to see who can come in the lowest.  This morning, AgRural cut its estimate to 128.5 MMT from the previous 133.4.  Not to be outdone or better-stated undercut, in this case, AgreSourse Brasil took their figure down to 125 MMT.  These reductions would appear to back up the stories and strength we witnessed last week in the bean trade, but if this turns out to be a buy the rumor, sell the fact type scenario is yet to be determined.  Regardless, we have seen beans extend into higher highs to kick off this week, and spot futures have moved to within striking distance of the $15 mark for the first time since June of last year.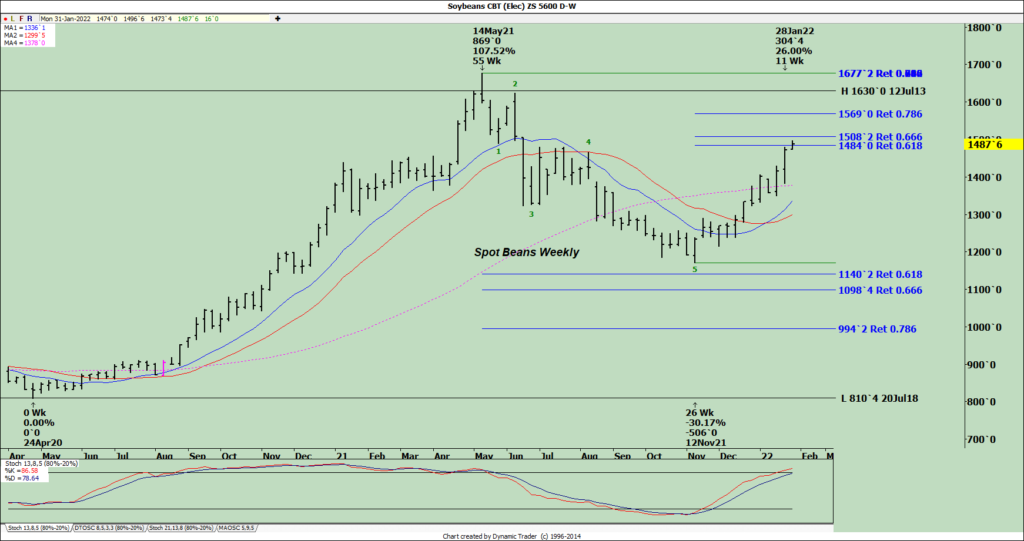 Large speculators were solid buyers in the grain/soy markets sans soy meal last week. They purchased over 50,000 contracts of corn, more than 18,000 contracts of beans, and a bit over 13,000 combined Chicago and KC wheat. Looking at just the Managed Money group, they are now long just over 365,000 contracts of corn and nearly 115,000 beans. Can we really expect them to keep pushing money into the long side of these markets at this time?
We do have one export sale to kick off the week.  China was in for 129,000 MT of beans.  Of this total, 66,000 are for the 2021/22 crop year and 63,000 for 22/23.
In the macro world this morning, we have metals higher, Bitcoin lower, as is the U.S. Dollar, financial instruments, and equities.  While not by any significant amount, energies are higher and have extended into higher highs for this advance.  This month, Brent crude has pushed through the last reaction high, set in 2018 at 86.74, and would appear to be headed for the next target zone between 97 and 103.50.  Needless to say, this market is very overbought.