The rally in the soybean market is now twelve weeks old and has reached back to levels last traded in June of 2021.  The past three weeks have definitely seen an acceleration in the advance as markets have tried to adjust to the reality of lower production in South America, and it would appear that we may have moved into the blowoff stage in an effort to stymie demand.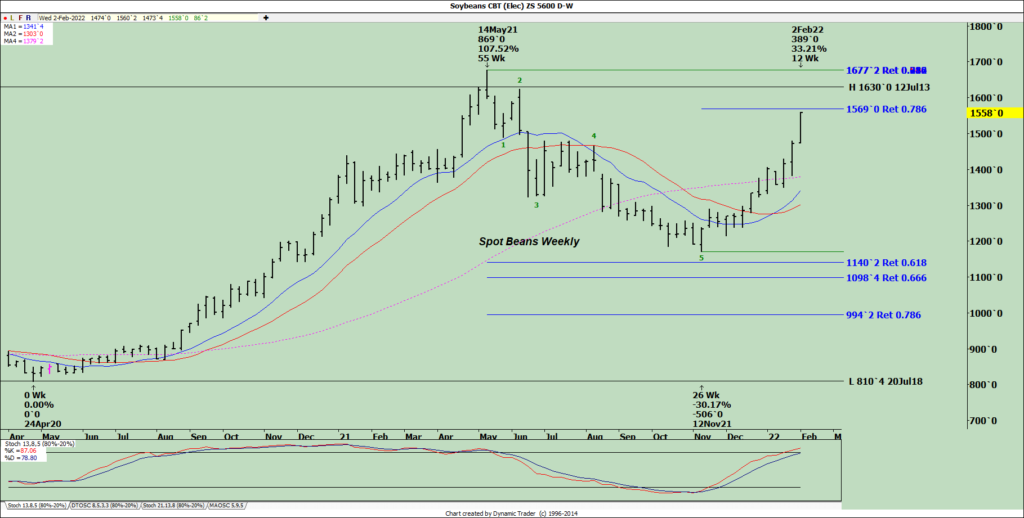 This morning, we can at least say that the South American concerns are not the only reason we have seen prices accelerate, as the crush industry has enjoyed excellent margins and has done all they can to capitalize on that.  The USDA census crush for December came through at a record 198.23 million bushels.  This beat expectations by a solid 1.5 million, and the previous record set in October last year at 196.9.  I should also point out that oil stocks came in lower than expected at 2.465 billion pounds while meal stock climbed nearly 16,000 tons from November. As I commented initially, I believe there is a real possibility that we have entered the blowoff stage of this move, all we need now is to hear stories of newbies trying to open brokerage accounts to buy beans because they heard (on Twitter) that there are problems with world supplies.
Opec+ has met again this week but evidently has no interest yet in opening the spigots any wider.  The has agreed to pump 400,000 bpd during March, which keeps them on the same plan that they unveiled in July of last year.  In case you were curious, Brent crude was trading in the $70/75 range in July compared with $90 this week.  Without a doubt, the Saudis hold the key to any real changes in output and many in the industry do not believe they will want to increase production by any significant amount until we breach the $100 a barrel level.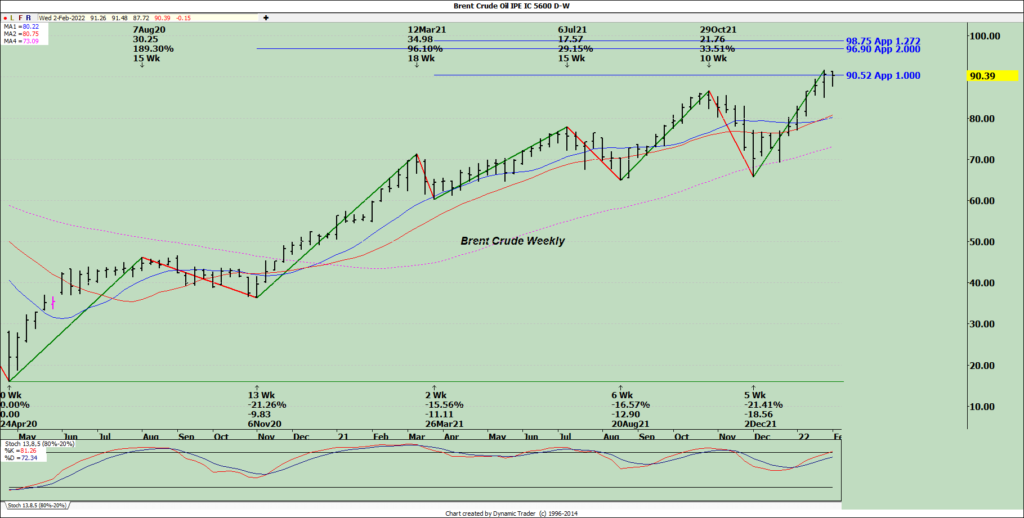 In the macro trade this morning, we find energies soft, metals higher, Bitcoin lower, financial instrument strong, equities flat to higher, and the Dollar under pressure again.  Since closing above the 2021 highs last Friday, the Dollar has pushed sharply lower for three days in a row.  I suspect this is little more than a technical correction as longer-term indicators continue to point higher.