Have you noticed that it seems no one respects tradition anymore?  Elbows on the table, wearing hats indoors, standing to greet someone, or leaving the U.S. flag outdoor, unlit, and in all sorts of inclement weather.  Why I don't believe they even allow flogging in the Navy anymore.  I guess it should not be a surprise then that traders today act as if they have never heard of the February break in the grain and soy markets.  This is the month that prices are supposed to head lower.  Of course, when seasonal tendencies such as that we conceived, we only contended with one major global growing season for corn and beans, and of course, that is literally topsy-turvy today.  Granted, it is still early in the month, and things could still change if these markets are not fed a steady diet of positive news, so maybe it is premature to abandon traditions just yet.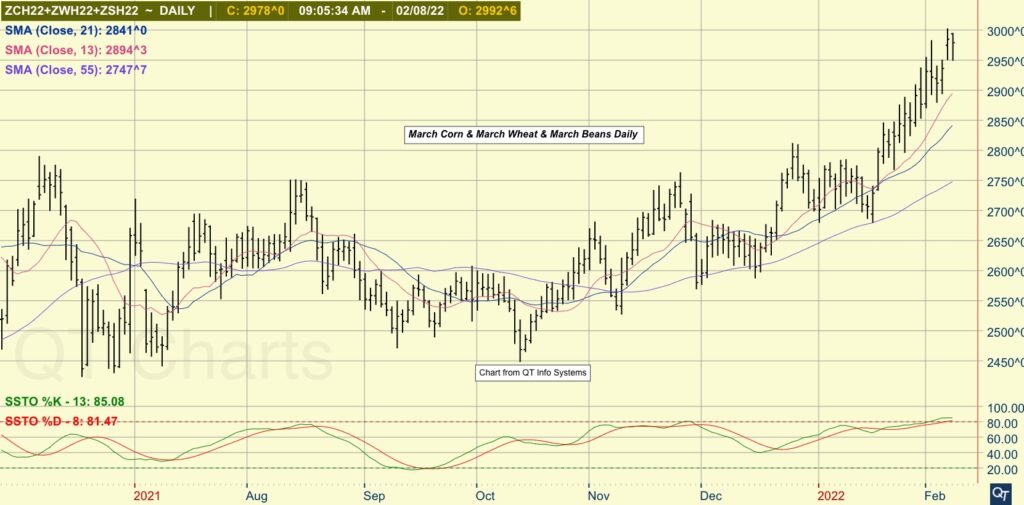 Speaking of crops other the other side of the world where water drains in the other direction, Brazilian bean harvest is estimated to have reached 16% complete, which compares with just 4% last year and an average of 10%.  Rains last week were primarily concentrated in the central and northern territories.  Dr. Cordonnier kept his estimate unchanged at 130 MMT this week.  First season corn is now estimated to be 18% harvested and 24% of the safrinha crop is planted compared with just 3% last year.  Crops in southern Brazil and Northern Argentina have received some moisture but the currently outlook is dry once again.  Dr. Cordonnier left his estimates for Argentine production unchanged, looking for 42 MMT of beans and 51 MMT of corn.
Tomorrow, we will see the USDA's latest assessment of South American crops and other related information and here again are trade estimates; Domestically, corn carryout is expected to come in at 1.512 billion bushels, which would be down 28 million bushels from last month.  Bean carry out is expected to be reduced 40 million bushels to 310 million, and wheat is expected to climb 1 million to 629 million.  The average estimate for Brazilian beans sits at 133.65 MMT, down from 139 last month, and corn at 113.6, compared with 115. Argentine bean production is expected to be cut by 2 million to 44.5 MMT and corn reduced to 52.16 MMT versus 54.  Global ending stock for corn is expected to be lowered nearly 3 MMT to 300.3 MMT, beans taken down 3.7 million to 91.5 MMT, and wheat left virtually unchanged at 279.9 MMT.
More beans sales were announced by the USDA this morning.  332,000 MT were sold to unknown destinations and 132,000 MT to China but all of these were for the 2022/23 marketing year.
State Canada released December 31st stocks estimates this morning, which came in as follows; All wheat is expected to total 15.564 MMT, which was under the expected 17.3 million and last year at 24.03 MMT.  Barley stocks dropped to 3.146 MMT, compared with 5.58 million last year, Canola was down to 7.56 MMT, versus 13.26 last year, and soybeans are at 3.285 MMT compared to 3.511 at the end of 2020.  I should not leave out oats, as year-end stocks were down almost 40%, coming in at 1.657 MMT.
In the economic world, we find that for the first week of February, Redbook Weekly Retail Sales were up 13.3% from both the previous week and last year.  December trade deficit numbers were also released this morning and we posted a deficit of ONLY $80.7 billion, up just slightly from $80.2 last month.  Economists were expecting a figure closer to $83 billion. Regardless, we nearly matched the record set in September at $80.8 billion.