While it does not appear to have rattled the bulls too severely, grain and soy markets did witness a collective swoon yesterday.  Prices have generally snapped back this morning, and if we closed right now, for the week, nearby wheat would have gained 16-cents, corn 24-cents, and soybeans 28-cents.  I suspect some of you may have imagined beans had done a bit better than that.  Regardless, even though the volatile action yesterday may not have signaled a peak, it is a stark reminder that moves such as this will come to an end with little notice and will almost always happen when the news seems to be the most bullish.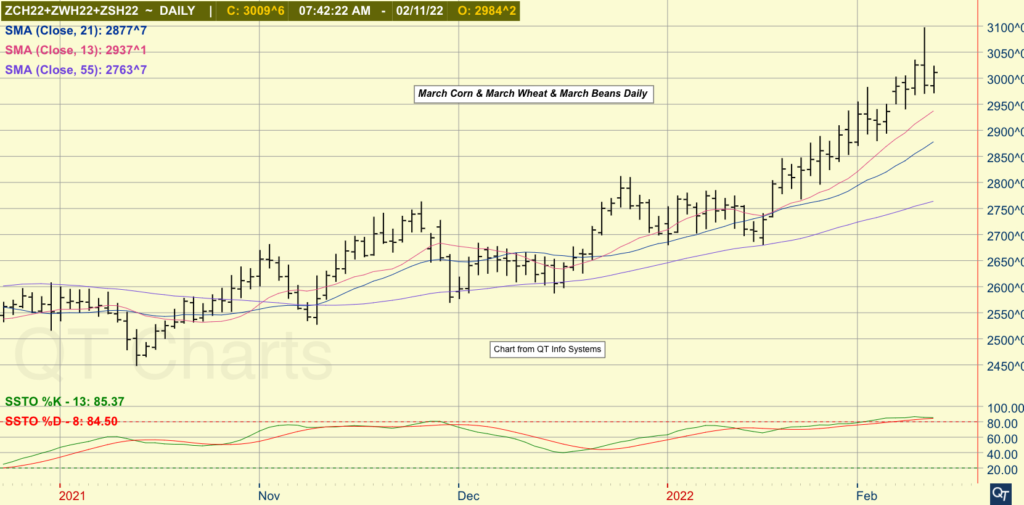 Please do not lose sight of the fact that this advance is now around four months old, and in commodity age, that means we are moving into geriatric territory.  As I commented yesterday, when you move into this phase of a rally, the action will become increasingly volatile and oftentimes nonsensical.  For the average traders, it becomes all too frequent to be churned and burned, and for producers, far too easy to become wrapped up in the bullish mentality and lose sight of what we need to be doing, which is trying to capture solid returns for our operations, not pick the high in these markets.  During such periods, it can be rather difficult to separate the wheat from the chaff.  To borrow a line from Thomas Paine, markets like these will "try men's (and women's) souls," and this is when a level head, a good plan, and years of experience should pay real dividends.
We do have a few more export sales to pass along this morning.  For the current marketing year, Japan has stepped in to purchase 128,000 MT of corn.  For the 2022/23 season, China bought another 108,000 MT of beans and 30,000 MT of bean oil was sold to unknown destinations.
While this comes are a surprise to no one, in their weekly update, the Buenos Aires Grain Exchange cut their estimate for the Argentine corn crop 6 MMT to 51 MMT.
In the macro world, energies are higher this morning, but for the week, Brent crude is flat. This could be the first time in eight weeks this market has not closed higher.  Metals and Bitcoin are higher for the week, notes and bonds lower, and it would appear that equities will sneak out another weekly gain.