While it may be Valentine's Day, it would appear that bulls in the grain and soy markets are not feeling much love this morning.  Technically, this is the celebration of two early Christian martyrs, so a little pain and suffering should be in order, not to mention in a more recent era, this marks the occasion that a few members of the North Side Gang in Chicago were presented with valentine gifts made out of lead.  The love they were shown was definitely NOT undying.
While I do not suspect the action today will turn out to be a massacre, we seem to lack much in the way of bullish input this morning.  The extended weather outlook for South America looks to improve after this week, and one has to suspect that the ongoing tension that surrounds the Ukraine/Russians situation could be creating somewhat of a "risk-off" mentality.  Let's also not lose sight of the fact that over the past four months, these markets combined have advanced around 25% as they adjust to the current reality of global production and stocks, so unless that situation worsens more, it may be a challenge to keep bulls from looking for greener pastures.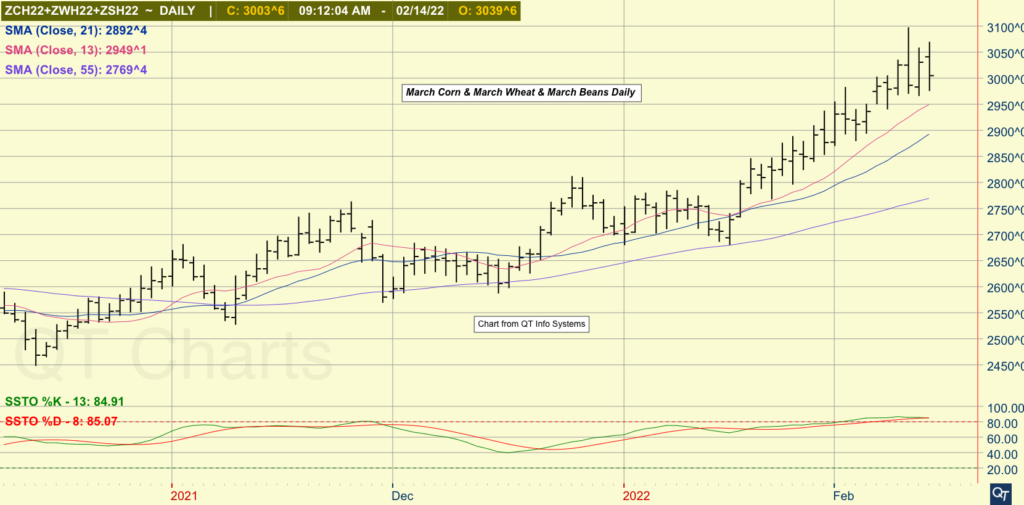 The Olympics are not the only this going on in China at present, as they held an ag conference over the weekend, outlining future production goals.  Of particular note is the plan to boost soybeans production.  While short on details as to how they will specifically do this, the official goal is to increase soy output to 23 MMT by 2025, a 40% increase from the present.
News is relatively sparse on the economic front as well this morning, and macro markets appear to be on a mission to adjust to the worst-case scenario for interest rate hikes in the next month.  Notes, bonds, and equities are all under pressure.  The dollar is higher, as are metals, Bitcoin is flat, and energies mixed.