Things were looking just a bit glum by the close in the grain and soy markets yesterday, but hope springs eternal, and a few buyers have emerged again this morning.  I am hard-pressed to come up with much rationale for the strength, outside of the fact that short-term indicators have slipped into an oversold position, so just how far this strength can carry is debatable.  Little has changed with the South American weather outlook, and with Russia supposedly pulling troops back from the border with Ukraine, there would appear to be less incentive for a risk premium.
Overall, we have seen little at this point to suggest bulls are interesting in giving up control of these markets, and I doubt they really will for another six weeks or so, but that does not necessarily mean we will be extending into higher ground either.  Between now and the Prospective Planted release on the 31st of March, we could be confronted with little more than sideways congestion, with neither bulls nor bears able to maintain control for long.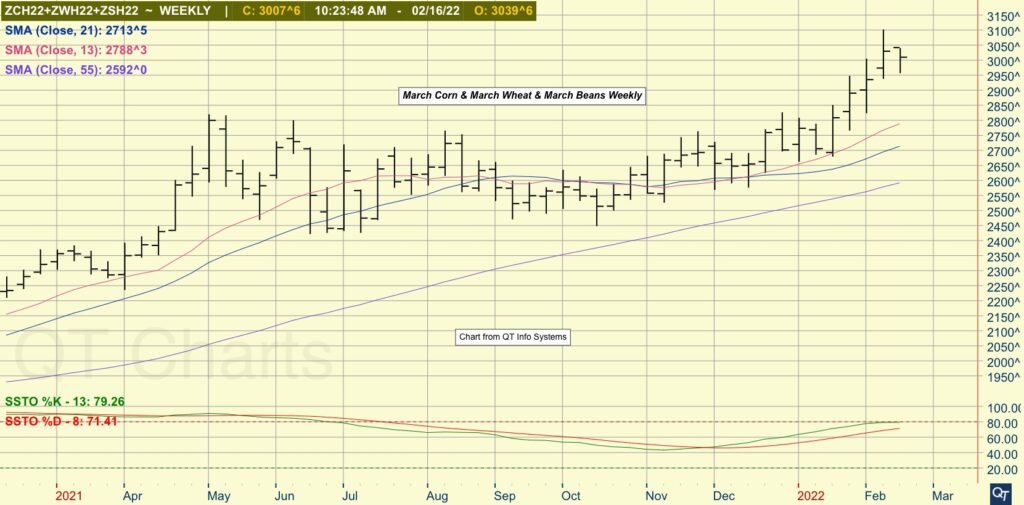 China would appear to be very intent on putting the world on notice that they intend to be importing fewer beans in the years ahead.  Last week they reiterated the goal of increasing domestic bean production by 40% by 2025.  Today, stories have been circulating that they believe they can cut domestic usage by almost 100 MMT per year via changes in livestock rations.  While short on details as to exactly how this will be accomplished, they did mention relying more on amino acids and alternative grains in hog diets and increasing forage in the diets of ruminants.  At first blush, this would come across as just so much hot air, but when you consider the fact that post-African Swine Fever, the hog industry in China has become much more commercial and, by extension, more efficient, it is not difficult to believe improvements in feed conversion could be substantial.
We have witnessed reversals in the macros as well this morning.  Energies and metal are higher, financial instruments are flat, and equities and the dollar are weak.