The on-again, off-again situation in Russia is raising havoc, not just in the grain and soy trade but in just about every market traded around the globe.  Risk-on for grain and soy trade, risk-off for energies, equities, and the dollar, and risk-on for the traditional safe haven in times of turmoil, gold, which has pushed up to the highest levels traded since June of last year.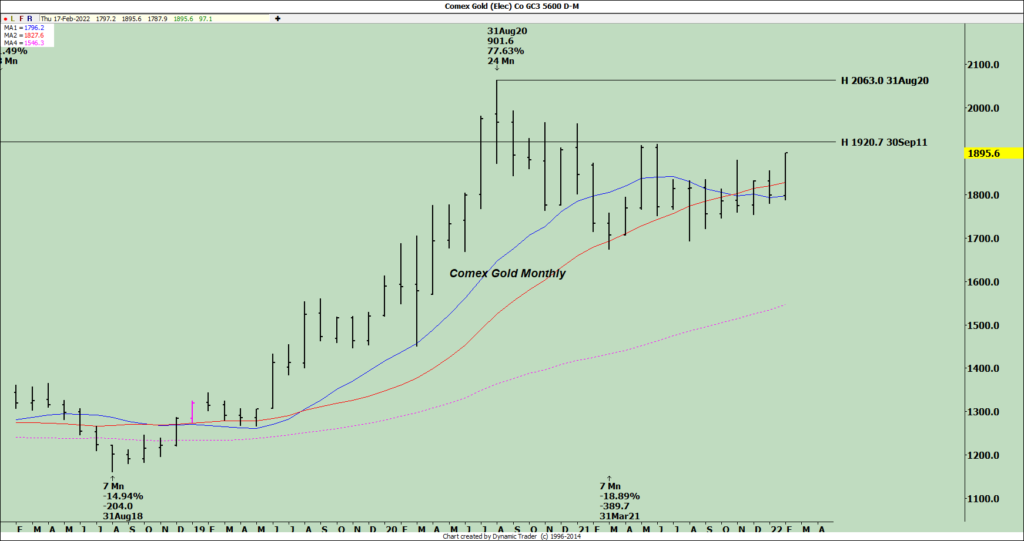 I certainly have no insight as to the eventual outcome with Russia/Ukraine, but if I were a betting person, I would be no means be putting money behind an independent Ukraine.  While that may or may not happen this time around, as long as Vladimir Putin rules Russia, it would seem inevitable.  If you look at price action back in 2014 when Russia crossed into Crimea, you would be hard-pressed to think anything out of the ordinary has occurred, but of course, Ukraine is a much larger presence in world grain markets than they were at that time.  This morning, Karen Braun of Reuters News pointed out that Ukraine currently accounts for 16% of global corn exports and 12% of wheat.  China now takes 36% of the corn shipped from that nation.  While there is no reason at this point to believe that will change, all of this most certainly breeds additional uncertainty, which of course, markets never really need more of.
Weekly sales for both wheat and corn improved last week, but neither will set the hearts of too many bulls aflame.  For the week ending the 10th of February, we sold 118,100 MT or 4.3 million bushels of wheat.  While this was 39% higher than the previous week, we were still 61% below the 4-week average.  Guatemala was the top buyer with 38.3k MT, followed by Mexico, taking 28.1k, and then Japan with 26k.  Sales for the 2022/23 marketing year were no more inspiring, coming through at just 10.5k MT.  Corn sales improved 39% for the week as well, coming in at 820,000 MT or 32.3 million bushels, but this was still 23% below the 4-week average.  Japan led the buying with 600.2k MT, followed by Mexico, who took 103.3k, and Canada with 45.6k.  For the 2022/23 season, there were sales of 113.5k MT.  Soybean sales were down 15% for the week, coming through at 1,361,800 MT or 50 million bushels, and was actually below the low end of estimates.  Unknown destinations led the way with purchases of 371.7k MT, followed by China taking 224.5k and then the Netherlands with 188.3k.  Sales for 2022/23 we solid, though with a total of 1,526,000 MT.  China accounted for 57% of this total, and unknown destinations took 34%.  Last week, there was a nice improvement in beef sales, coming in at 23,000 MT, with South Korea and Japan accounting for 75% of the total.  Pork sales improved a meager 1% for the week, coming through at 18,300 MT, but this figure was still 38% under the 4-week average.
We do have a few economic reports worth noting this morning.  The Philly Fed February Business Activity Index came in with a reading of 16, compared to the previous month at 23.2 and an expected 19.  The New Orders Index for the month registered 14.2, versus 17.9 last month, and the Inventory Index climbed to 4, from 3.1.  Housing starts in January appear to be feeling the effects of higher mortgage rates, declined 4.1% versus the expected .7% decline.  Finally, weekly Initial jobless claims edged up 23,000 to 248,000 but have appeared to have largely leveled off.
This morning in the macros, we find energies under pressure, metals and financial instruments strong, the dollar slightly higher, and equities under pressure.  As I commented initially, much of this trade this morning appears to be driven by global uncertainty.