It would only stand to reason that after a week of being both emotionally and financially whipsawed with the ever-shifting stories that have emerged concerning the Ukraine/Russia situation, markets are a whole are just ready to even out the book, and allegorically head home for the weekend.  If we were to wrap things up right now, for the week, corn would finish up 1-cent, Chicago wheat up 8-cents higher, and soybeans up 18.  While a gain is a gain, it is hard to view this as anything more than trying to factor in a bit of risk premium in case troops begin to march across borders.  Again, let's pray that is not the case, but would markets really need to add a significant extra premium even if that does occur?  Seeing that I am not qualified to answer that question, I will maintain my stance that between now and the end of March, the grain/soy markets will maintain a steady to possibly higher stance, with the potential to have established highs for the year during this time.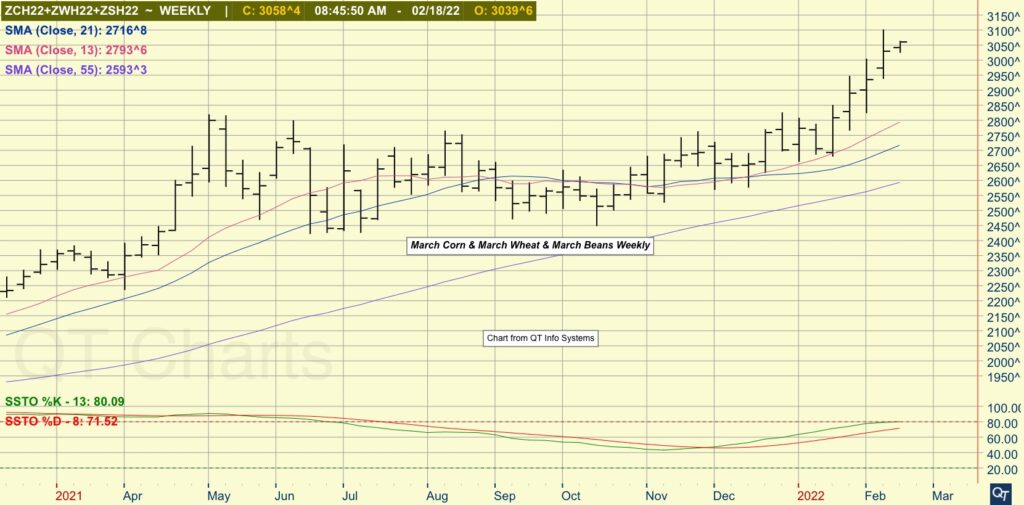 The USDA did present us with one last export sale to round out the week this morning.  198,000 MT of beans were sold to unknown destinations.  Of this total, 66,000 MT is for the current marketing year and 132,000 for the 2022/23 season.
France AgriMer provided crop updates this morning, which reflect generally solid conditions.  Soft wheat was rated 95% good/excellent, which was unchanged for the week; 94% of winter barley was rated good/excellent, and 89% of durum wheat was in the same category.  27% of spring barley has been planted, an increase of 7% for the week and 11% ahead of the same time last year.
While housing starts may have slipped in January, the same cannot be said of existing home sales.  According to the National Association of Realtors, 6.5 million units were sold during the month, which was an increase of 6.7%.  Economists were expecting a decline of 1.3%.  The median price for existing homes climbed 15.4% over last year to $350,300.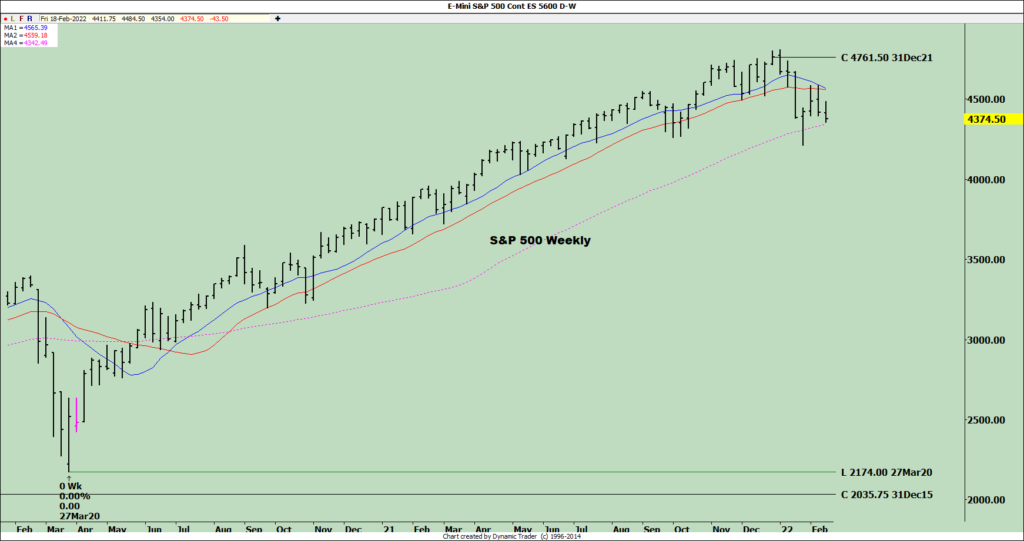 For the week, the S&P 500 is down just over 40 points, Brent crude is $4 lower, and will break an eight-week string of higher closes.  Gold is up nearly $40 and at the highest levels since June of last year.  10-year notes are slightly higher for the week, and the U.S. Dollar is about 20-points lower.