One can certainly not refer to the recent incursion by Russia into Ukraine as a Black Swan event, as we have been talking about it for weeks. Still, markets have certainly acted like it was a significant shock. It would seem we need to develop a new moniker for this incident, and in light of who appears to be the aggressor, a Black Bear event seems to be appropriate. While none of us knows just how much risk premium markets will ultimately build into prices, not to mention the fact they will always overshoot the mark, there is one point to keep in perspective. Nothing has really changed in the global grain/soy picture at this time due to this event, and once prices have exhausted to the upside, chances are they will come back to reality even quicker than they advanced. I would say these will not be markets for the faint of heart, but in reality, they are not for the lion-hearted either.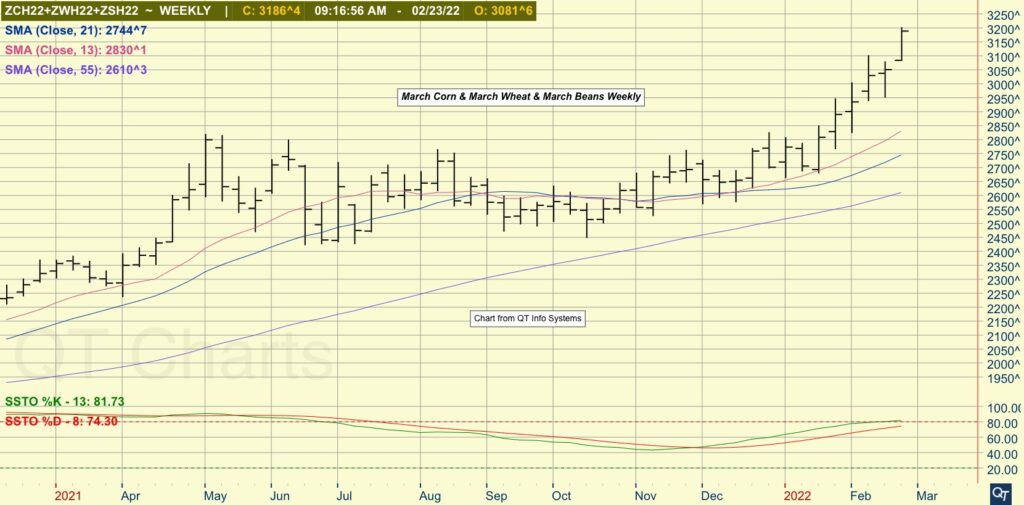 China has been a regular but unspectacular buyer of beans as of late and were back in for what appears to be the standard purchase overnight.  132,000 MT for the 2022/23 marketing year.  Due to the holiday, the weekly export sales will be pushed back to Friday.
Of course, that will not be the only news out of Washington this week as the annual USDA Ag Forum will kick off tomorrow.  The highlight for many will be the statistical projections for acreage and supply/demand.  Here are some trade expectations; The average guess for corn acreage is 91.6 million, which would be a reduction of 1.8 million from last year.  Beans acreage is expected to climb 2.3 million to 89.5 million, wheat up 1.1 million to 47.8, and cotton up 1.1 million to 12.3 million.  2022/23 ending stocks are expected to come in at 1.577 billion for corn, 365 million for beans, 658 million for wheat, and 4.21 million bales for cotton.
Sentiment indexes and surveys continue to tell us that the American consumer is down in the dumps, but thus far, that does not seem to show up in weekly retail sales figures.  Compared with a year ago, sales for the week were up 14.5%, and for the first three weeks of February, we were up 14.4%.  If this were still making a comparison to two years ago, you could chalk it up to covid discrepancies, but we are moving beyond that point now.
In the macro trade this morning, we find energies higher once again, metal mixed, financial instruments under pressure, the dollar flat, and equities mixed/higher.  The Ukraine/Russia situation has had the opposite effect on equities as it has on the grain and soy trade.  Still, it is worth pointing out that after reaching down to challenge the late January lows yesterday, the S&P 500 turned higher for the close.  That also happens to be the same level it supported back in October 2021.