There would appear to be little doubt that the war in Ukraine has already carried on much longer than what had been envisioned by Napoleon Putin, and as one day extends to the next, markets have become increasingly unnerved as well.  It would be nice to think that Putin will have arrived at his Waterloo on this needlessly blood-stained soil of Ukraine, but of course, that is yet to be determined.  It is worth noting that even China now appears to be lining up in opposition to this aggression as the Foreign Minister from that country has offered to mediate a ceasefire.
Often times in periods of uncertainty, many investors will flock to the U.S. dollar or gold to try and weather the storm, and while these two markets did react higher last week, neither has really extended gains from there.  Cryptos have rebounded after initially breaking down last week, but it would appear that the primary beneficiary has been financial instruments.  Say what you want about U.S. government-issued debt securities, but in times of uncertainty, there is still nothing better around the world than good old U.S. Notes and Bonds.  Two weeks ago, you would have been hard-pressed to find anyone who was not absolutely confident that the Fed would be bumping interest rates at least 25-basis points, if not 50-points higher this month, but with the disruptions this war has caused, there is serious discussion that the Fed may need to postpone those plans for now.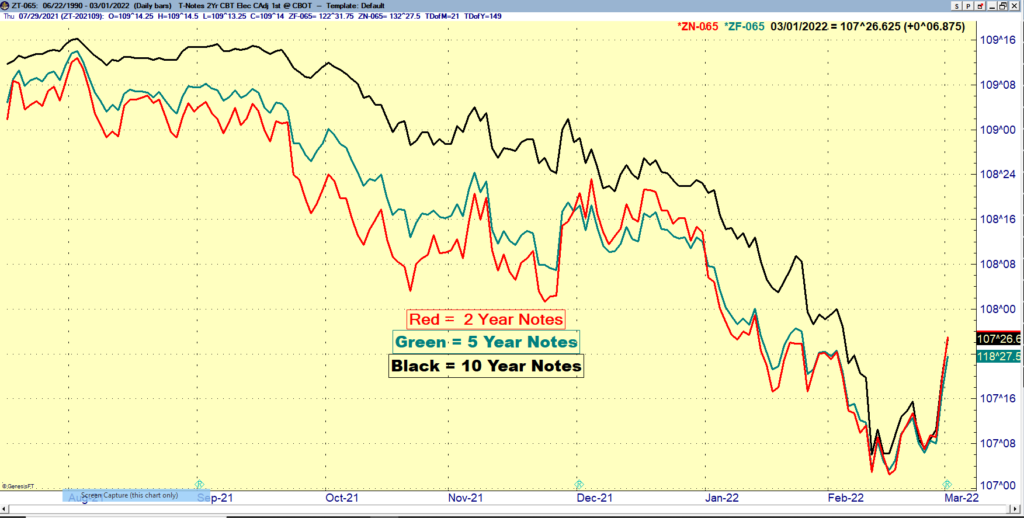 While the uncertainties surrounding the future of Ukraine (all ports are closed for now) remain as the key focal point for grain and soy markets, by no means is it the only thing happening.  China was back again overnight, purchasing more beans for the 2022/23 crop year.  This time they stepped up the quantity a bit with 264,000 MT or around 9.7 million bushels.
In Brazil, soybean harvest has now reached 44% complete, which is nearly 20% ahead of the pace a year ago.  The weather has improved enough to at least stabilize the balance of the crop, and Dr. Cordonnier is keeping his estimate at 124 MMT, with a neutral bias looking ahead.  First crop corn harvest is now 37% complete, and planting of the safrinha crop is 64% complete, compared with 39% a year ago.  Dr. Cordonnier kept his total corn estimate at 112 MMT.  Further south in Argentina, there has been enough moisture to at least stabilize crops, but needless to say more will be needed.  33% of the early planted beans are filling pods, and 21% of the later planted are just setting pods.  The crop is currently rated 28% poor/very poor, 48% fair, and 24% good/excellent.  Early corn harvest has begun and stood at 3.2% at the end of last week.  As you would expect, early yields are poor.  The crop is currently rated 28% poor/very poor, 51% fair, and 21% good/excellent.
We have a few economic releases this morning, which are a bit to the positive side for the economy.  Retail sales last week were 13.4% ahead of last year and for the first four weeks of February were 14.1% ahead of last year.  The Institute for Supply Management, ISM, released manufacturing numbers for February, which were a touch better than January.  The Manufacturing Composite Index came in at 58.6, versus 57.6 the previous month.  Manufacturing Prices slipped to 75.6 from 76.1.  New Orders increased to 61.7 from 57.9, and Manufacturing Production came in at 58.5 versus 57.8 in January.  Finally, Construction Spending increased 1.3% in January.  Economists expected no change.
In the macros this morning, we have the dollar and financial instruments strong, equities under pressure again, metals higher, and understandably, Brent crude oil on the cusp of pushing into higher highs once again.