Thus far, at least, there would appear to be little panic buying of physical grains or soy showing up in the U.S. market.  Granted, the actual invasion of Ukraine happened late in the reporting period for weekly sales, but the figures this week for corn are downright disappointing, and wheat was not significantly better.  For the week ending February 24th, we sold just 485,100 MT or 19.1 million bushels of corn.  This was 53% lower than the prior week and 47% under the 4-week average.  Japan accounted for 66% of the net with purchases of 320.4k MT, followed by Mexico taking 180.2k and then Colombia in for 125.4k.  There were reductions of 247.6k from unknown destinations.  Sales for the 2022/23 marketing year totaled 222.8k MT.  There was a sale of 337k MT of corn to unknown destination also this morning.  Wheat sales slipped 42% for the week, coming through at 300,000 MT or 11 million bushels.  Mexico was the best purchaser with 90.1k MT, followed by Japan at 66.9k and Taiwan with 56.3k.  One might have expected the new sales to pick up the slack at this point in the year, but they only totaled 69.8k MT.  Current marketing year sales for soybeans were down 31% for the week and were 34% below the 4-week average, with a net 857,000 MT or 31.5 million bushels.  Unknown destinations accounted for 40% of these at 345.9k MT, followed by Egypt with 178k, and then Italy taking 92k.  Sales for the 2022/23 crop year were decent at 1,386,000 MT, but 90% of these were to China.  In the daily system, there was a sale of 132k MT to China reported this morning.  Of this, half is for the current marketing year and the other half for 22/23.  Meal and oil sales for the week were also down sharply.  In turn, livestock enjoyed quite a nice rebound for the week.  Beef sales totaled 23,800 MT, which was up 64%, and pork sales jumped 59% to 42,200 MT.
Obviously, the news of the Russian invasion of Ukraine and all the efforts by much of the world to stop doing business with Russia has failed to reach the members of Opec.  I am being sarcastic, of course, as after their regularly scheduled meeting yesterday, which by the way, was the shortest on record, lasting only fifteen minutes, they released a statement that read; "Current oil market fundamentals and the consensus on its outlook pointed to a well-balanced market, and the current volatility is not caused by changes in market fundamentals but by current geopolitical developments."  While it is difficult to really argue with that statement, the 104% increase in price over the past 23 months would seem to suggest something is not "well-balanced."  It would appear that the message within the message is, do not expect us to step up and increase output during this crisis.  We are having too much fun making money.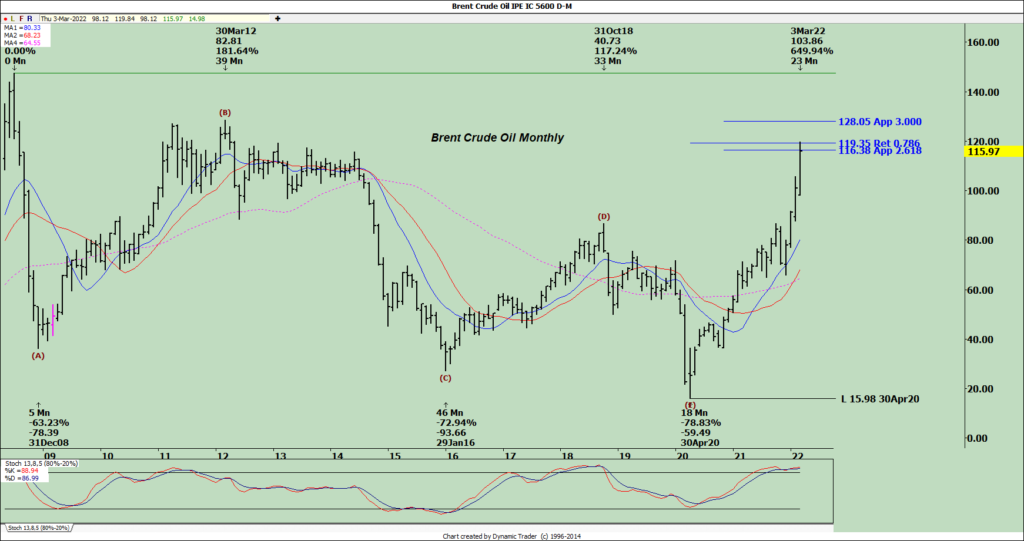 On the economic front, weekly Initial jobless claims were released this morning, dropping 18,000 for the week to 215,000.  It would appear that claims have settled into the 200,000 level which is basically where the trended pre-covid.  The monthly employment numbers will be released tomorrow.

In the macro markets this morning, we find energies weak, metals strong and financial instruments under mild pressure.  Equities are higher, building on yesterday's strength and the dollar is finally poking into higher highs for the year.