Despite the heroic efforts of the people of Ukraine, Russian forces continue to overwhelm the resistance, and people's fears continue to turn into reality.  For the markets we watch, it has translated into not just anticipatory anxiety but outright panic this week.  It is interesting that a little over a week ago, it was reported that Russian troops had taken over Chernobyl, the site where tonnes of radioactive material lay buried in a sarcophagus, with seemingly minor reaction from markets.  Maybe it was just a reminder of old Soviet failures.  The same cannot be said of the bombing and seizure of an operational nuclear plant at Zaporizhzhia in south-eastern Ukraine in the past 24-hours.  This just happens to be the largest nuclear plant in Europe.  While it has been reported that no reactors were damaged, Putin et al. have accomplished what they most likely intended to do, which is to raise the level of anxiety of just how far they may go on their intended mission.  If there were indeed some type of fear meter, as portrayed in movies, it almost certainly would have gone from just the red panic mode into the flaming meltdown zone, no pun intended.
In the ag sector, understandably, wheat has been carrying the mantle into higher prices.  Not only are Russia and Ukraine both significant players in the global wheat market, but wheat, more so than corn or soybeans, psychologically represents the essence of food for much of the world.  Needless to say, this event has not just upset the apple cart, it has turned it upside down, has broken a number of spokes out of the wheels, and no one is quite sure about when the parts to fix it will be available.  I had pointed out earlier this week that spot wheat futures have left a monthly gap higher, and the last time I could find a comparable scenario was all the way back in 1973 when the Russians had pulled off the "Great Grain Robbery." In the ensuing two- and a-part days since I wrote about that, spot wheat futures have extended the advance by more than $3 and this morning moved to a new record high price by pushing through the 2008 peak at 13.34.  Where this run may finally stop is anyone's guess at this time, but I will point out that if used as a measuring instrument, the gap left this past Tuesday provides a possible upside target of 15.43.  It almost goes without saying, but market risk is growing exponentially, and we cannot lose sight of the fact that there will come a day of reckoning, and you most likely do not want to be standing in the way when that happens.  I was still pretty wet behind the ears when President Nixon placed an embargo on beans sales back in 1973, but my father said cash markets immediately took protection of more than $3 per bushel, and as it turned out, it was a smart move to have sold into that anyway.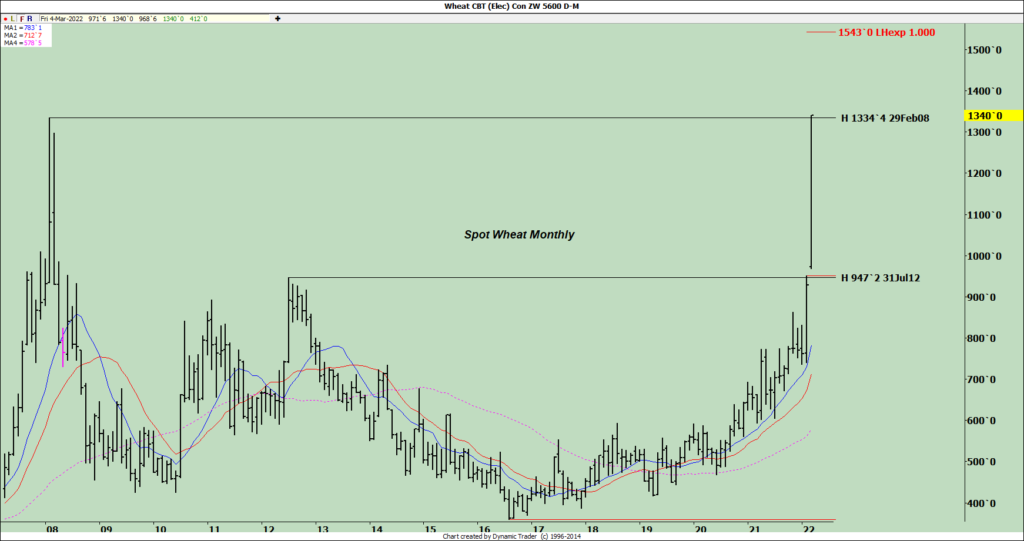 Believe it or not, there is still other news from around the ag world.  France AgriMer released weekly updates and reported that winter crops are looking good.  Soft wheat is rated 93% good/excellent, Durum wheat 89% good/excellent, and winter barley 90%.  Planting of spring barley increased to 36% from 28% last week.  The Buenos Aires Grain Exchange also provided updates on Argentine crops.  They report that 89.5% of the nation's beans are blooming, and 68.1% are setting pod.  They rate this crop 25% good/excellent, 50% fair, and 25% poor.  The sunflower crop is looking a bit better and is rated 41% good/excellent, 43% fair, and 16% poor.  83% of the early planted corn in that country is now silking, 51% is mature, and the overall crop is rated 21% good/excellent, 53% fair, and 26% poor.
While it may seem that we just moved past USDA estimates, we have more on tap for next week.  The trade is expecting the domestic ending stocks to shape up as follows; Corn 1.479 billion bushels, beans 278 million, and wheat 628 million.  The average estimates for Brazilian crops have beans at 129 MMT and corn at 113, and for Argentina, 43.4 MMT of beans and 52 MMT corn.  Of course, once we have moved beyond this report, we have the quarterly grain stock and prospective planting number to look forward to.
Over in the macro world, we have the same type of panic gripping those markets as we do in the ag world.  Energies and metal are both strong, with Brent crude currently up nearly $16 for the week and gold up $57.  Financial instruments have shot higher as people run for security, and some suspect that Fed may temper plans for rate hikes.  10-year notes are now 160 points higher for the week, and 30-year bonds up 4 full points.  Equities are under pressure this morning, and currently, the S&P 500 is down 45-points for the week, and the DJIA is down a bit more than 700 points.  Last but not least, the U.S. dollar has come to life and is more than 200 points higher for the week and up to the highest level since May of 2020.