Energies have returned to center stage as the next act of this drama unfolds.  As we reported yesterday, President Biden announced that the U.S. would no longer import any energy products from the United States and encouraged other countries to move in that same direction.  Of course, Europe, and particularly Germany, is not in a position to do so just yet, but the EU announced plans to cut Russian gas imports by 2/3rd within the next year. Russia currently accounts for 8% of U.S. crude and refined energy imports.  Needless to say, Putin is displeased with all this talk and has stated Russia will be cutting off exports of yet to be specified products.  Brent crude oil did reach a new high for the move at 133.15 yesterday, which is still around $14 shy of the record peak set in 2008 at 147.50.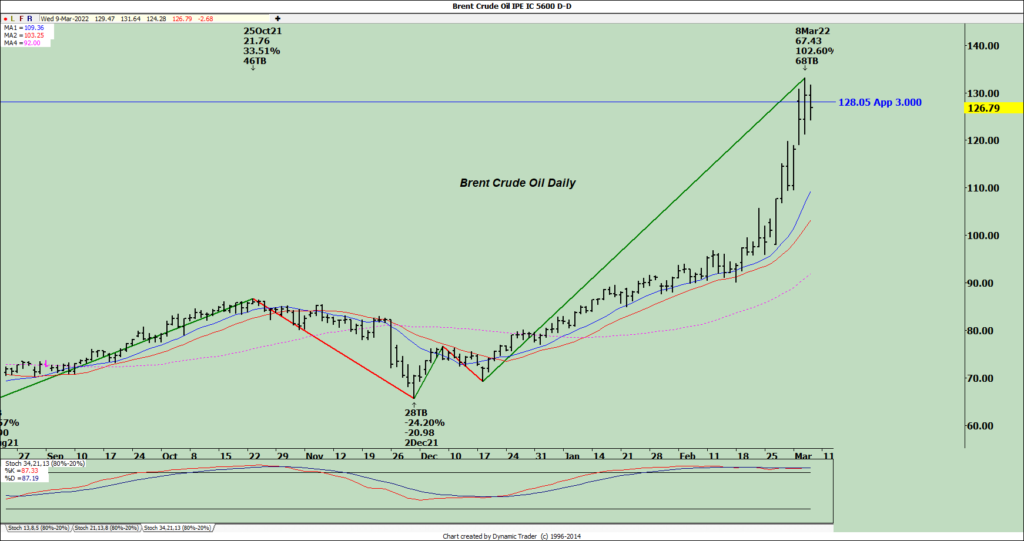 While I do not know if this was a previously scheduled meeting or something that was put together since Russia invaded Ukraine, but a high-level delegation from Washington took a trip to Caracas over the weekend, and it would appear that relations between Venezuela and the U.S. may have warmed a touch.  While nothing was announced concerning the resumption of energy trade, the discussions were described as "respectful, cordial and very diplomatic." So much so that Venezuela has released two Americans that had been arrested on charges of corruption and spying back in 2019.  As we know, adversity can create strange bedfellows, and hopefully the White House treads cautiously down there.
At home, the Biden administration has singled out the shale oil industry and stated that they should do "whatever it takes" to increase production at this time.  While it is no secret that this sector has been slow to respond to rising prices, from what I understand, it is not for want.  The biggest issue appears to lay with Wall Street and the financial services industry who have insisted on seeing dividends and fiscal discipline instead of exploration and increased output.  If correct, it would appear that Washington needs to be applying pressure on the crowd wearing suits, not the ones who are getting their hands dirty.
Sorry, I was a day ahead of myself concerning the March supply/demand report.   Here again, are the trade estimates; domestic ending stocks for corn, 1.479 billion bushels, beans 278 million, and wheat 628 million.  The average estimates for Brazilian crops have beans at 129 MMT and corn at 113, and for Argentina, 43.4 MMT of beans and 52 MMT corn.  Once we are through this report, the focus can shift to the quarterly grain stocks and Prospective planting reports scheduled for the 31st.
In the macro trade this morning, it would appear that either we are growing accustomed to the turmoil or people are beginning to believe we have seen the worst.  Energies and metals are lower, as are financial instruments and the U.S. Dollar.  Over in the equities, we are witnessing the first solid rebound in the past week, but this is after the S&P closed at the lowest level since May of last year.  It will be interesting to see if we sustain these moves through the close.