While there would appear to be no more certainty as to the ultimate outcome of the war in Ukraine than there was a week ago, but it would seem that the grain and soy markets have adapted to at least what we know for now.  Volatility has by no means subsided, but it is worth pointing out that on the combination chart, after spiking to new highs initially, we are now poised to close lower for the week.  For the individual commodities, we have May corn currently down 4-cents for the week, May beans are up 7-cents, and May wheat is down 140-cents.  Do note as well that the stochastics on this chart have reached the overbought zone and appear to have lost positive momentum.  Granted, close does not count in this business, particularly in a supercharged period of uncertainty, so we need to remain patient for events to unfold.   The focus appears to have shifted to concerns of planting this year's crops, and until we know more of that situation, bulls hold the upper hand.
Winter crop conditions in France slipped a smidge this week but remain strong.  Soft wheat was rated 92% good/excellent, down 1%, Durum slipped 1% coming in at 88% good/excellent, and Winter barley was ranked 89% good/excellent, also down 1% for the week.  Planting of spring barley moved up to 76% complete, which was an increase of 40% for the week.  If there ever were a year that incentivized farmers to get spring crops in the ground, this would be it.
A couple export sales were reported this morning.  China purchased 264,000 MT of beans for 22/23 and 128,900 MT of corn was sold to unknown destinations for the current crop year.
One of the most widely circulated pictures from the ag sector in Ukraine this week is doubt the video of a John Deere tractor towing a broken-down Russian tank to an unknown fate.  Beyond hooking onto unwanted Russian equipment, it does sound as if limited spring work has taken place, with emphasis on limited.  The Ukraine farmers union did release a statement this morning, suggesting that corn, rapeseed, and sunseed planting will be disrupted if this war drags on but that those acres would then likely be diverted to oats, buckwheat, and millet.
Some of you may be wondering why the Saudis and other middle eastern nations have not stepped up and opened spigots to help temper the rising energy markets.  Outside of sheer greed, it would appear that at least part of the answer is they really do not like how they perceive to be treated by the west, and the U.S. in particular.  On top of that, they have developed a close, mutually beneficial working arrangement with Russia over the past few years, i.e., Open+. Going back through the Obama years, the Saudis, in particular, believe that the United States has not catered to their concerns and needs and obviously feel no obligation to help now.  I guess when push comes to shove, the literally hundreds of billions of dollars that we have spent protecting their and our interests in the Gulf region during the past 50 or so years counts for little.  Do note that after spiking up to the highest point since the record peak in 2008 this week, Brent crude is on track to close lower.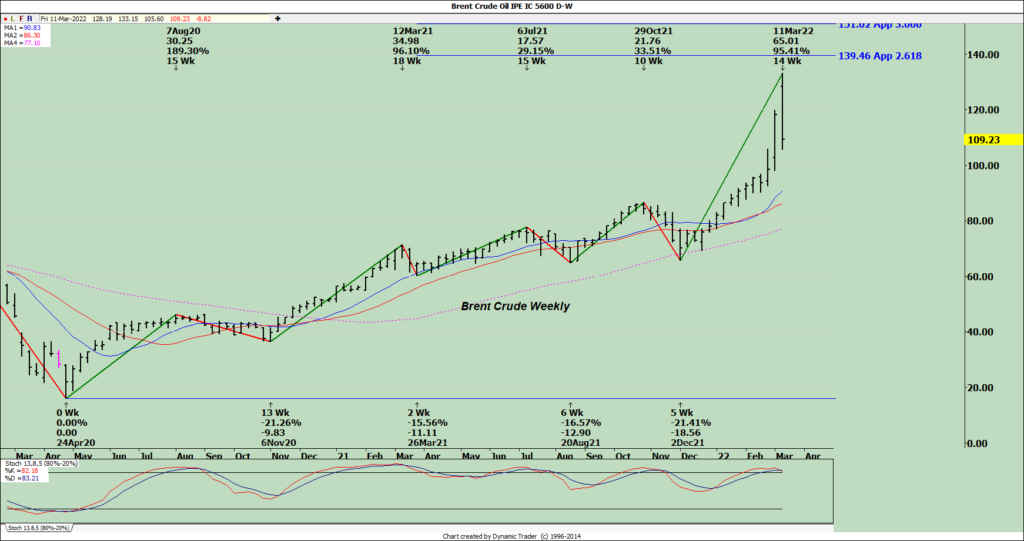 Looking at the other macro trade for the week, we find gold down $12 an ounce after spiking briefly above the 2020 peak.  Financial instrument should close lower but did not extend into lower lows as of yet.  The U.S. Dollar basically unchanged, and the S&P 500 is now only 24 points lower for the week.