While producing little to nothing concrete, weekend negotiations between Ukraine and Russia were construed as construction, with Ukraine suggesting that "hard" talks on an immediate ceasefire had begun. This appears to have been enough for grain/soy markets to surrender some of the risk premium that was factored into prices coming into last weekend. Russia evidently would like the world to believe that, at home, little has changed and that they are still exporting grain from five different ports in the Black Sea. Never mind that the financial system is in disarray, all independent news has been shut down, and that protesters who speak out against Putin and the war are being locked up. Move along, nothing to see here. While short on details, in Ukraine, the Prime Minister has stated that the government will be instituting a plan to support farmers with planting crops so that it can begin as soon as possible. It will be interesting to see just what that might be, but of course, it is a recognition that they are prioritizing trying to get this next crop in the ground.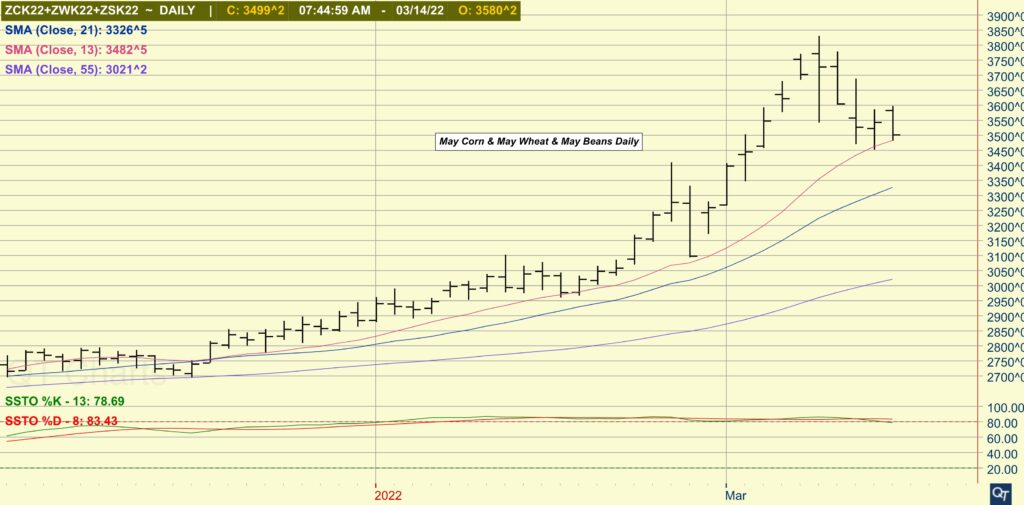 A more surprising story came via Argentina over the weekend as the government announced that they were suspending the registration of export sales for oil and meal.  While the official reasons for the move have yet to emerge, the oilseed industry is speculating that the government plans to raise export tariffs by 2 points.  Keep in mind that new crop shipments have yet to begin, but the news was still enough to lift the soymeal markets to higher highs this morning.
We have one export sale to kick off the week. Mexico has purchased 159,000 MT of corn for the current marketing year.
The FOMC is meeting this week, and while most expect a hike in interest rates, the question remains as to if it will be 25 or 50 basis points. Financial instruments have already pressed into lower lows in preparation. Equities remain higher but have faded significantly from early strength, and the dollar is lower. Gold is under solid pressure and has now erased last week's strength, and the energies markets are all under good pressure. Brent crude has not yet pushed through last week's lows, but with weekly indicators crossed lower, it would appear that we have a peak in place.