For more than 400 years now, the phrase "beware the Ides of March" has been synonymous with impending doom.  As retold by Shakespeare, supposedly the seer, Spurinna, uttered these words to Julius Caesar as he made his way to the Senate in mid-March, which he ignored to his peril as he was stabbed to death hours later.  It would appear that playing the role of modern-day oracles are several state crop agencies who released warnings of impending danger for the winter wheat crops yesterday afternoon, which has been enough to carry that market higher overnight.  Kansas rated the crop 38% poor/very poor, Texas has 75% of the crop down in those categories, Oklahoma places 41% there, and Colorado had 40% of the crop as poor/very poor.  This may have been brushed aside on any given year, but seeing much of the southwest remains in drought conditions, combined with the uncertainty of the Ukraine/Russia situation, this is anything but a normal year.  Add to this a semi confusing statement from Russia overnight as to who they will continue selling grain to, and you have risk-on trade overnight.
Soybean harvest in Brazil continues to move ahead, and according to AgRural, it was 64% complete as of last weekend.  This compares with just 46% completed a year ago at this time.  Of course, they are ahead of last year not only because of earlier planting, but as any farmer will attest, when yields are poor, it takes much less time to harvest.  Dr. Cordonnier lowered his estimate by another million tonnes this week to 123 MMT.  52% of the first crop corn has now been harvested, and 94% of the safrinha crop is planted.  90-day weather forecasts appear to be turning dryer than normal.  In Argentina, corn harvest moved ahead by a couple of percentage points and was estimated to be nearly 6% complete.  No beans have been reported harvested, but it is estimated that 30% to 40% of the acreage is maturing.
I have often used the adage that it is never the alligator that you are watching that will bite you, which appears to be applying to a number of commodity markets right now, and in particular energies.  The alligator that we had taken our eyes off is Covid, and as you probably have heard, there has been a significant outbreak in several cities in China.  With their zero-covid policy, there is the fear they will move back to a complete lockdown, which in turn will stymie economic growth and, by extension, energy demand.  They are, after all, the world's largest importer of energy.  Over the past five days, Brent crude has dropped nearly 27% and slipped below $100 for the first time since the beginning of this month, and the Chinese stock markets have witnessed hefty losses.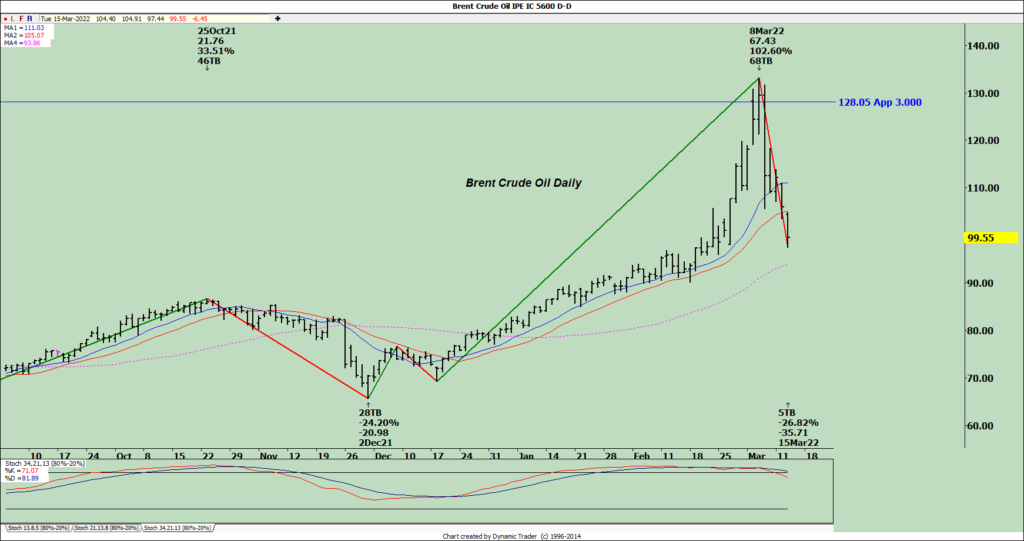 Producers Price Index (PPI) numbers for February were released this morning, coming in slightly lower than anticipated.  The Final number registered an increase of .8% versus the expected .9% increase, and when food and energy were excluded, the number increased just .2% instead of the expected .6%.  Personal consumption for the month grew .7%.
In the macros this morning, energies and metal are under solid pressure, the U.S. Dollar is soft, equities are higher and financial instruments have bounced after pressing into lower lows yesterday.