Encouraging stories emanating from ongoing Ukraine/Russian negotiations appear to have lowered the tension levels in markets a few notches overnight. By no means has a cease-fire been declared, let alone details of any type of peace agreement, but comments from both sides would seem to indicate positive progress. President Zelensky has commented that while the negotiations remain "difficult," they were beginning to "sound more realistic," and Russia's foreign minister, Sergei Lavrov, stated that "absolutely specific wordings" were "close to being agreed." Granted, that wording is intentionally vague, but Moscow has commented that there is "hope for reaching a compromise." The is no doubt that risk premium and/or discount are still well kneaded into the dough of various markets; you can sense a big sigh of relief. Note that the S&P 500 has again pushed back above the close on the 24th of February when Russia began its assault.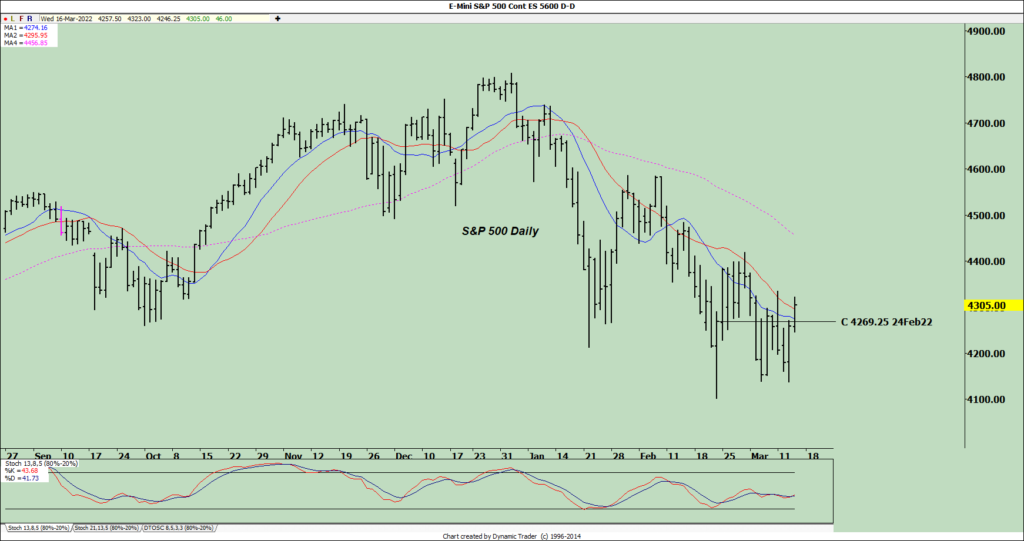 When uncertainty abounds, as it does currently, and we have potentially disrupted the existing paradigms of commerce, sometimes people and markets lose sight of the old adage that the best cure for high prices is high prices. In the most simple terms, higher prices should discourage demand and encourage production, but we cannot lose sight of the fact that there will always be someone looking for a way to capitalize on the disruption. It would appear that at least one of those someone's currently is India. After China, India is the world's largest wheat producer and is currently sitting on excess inventory. According to Reuters, government sources have revealed that the Modi administration is rushing to implement a plan to increase testing and bolster transportation to move wheat to export facilities over the next couple of weeks. Last year India exported 6.12 MMT of wheat, and this new plan would hope to increase that figure to around 10 MMT.
The morning weather update has much-needed rain coming into a large portion of the red winter wheat region late week and then moving into the Midwest for the weekend. Needless to say, more and ongoing rain will be needed in the southwest. In South America, both Brazil and Argentina are expected to see moisture during the next week to ten days.
In economic news, February Advance Retail Sales were released this morning and leaned to the disappointing side. Total sales increase .3%, versus an expected .4%, and with autos excluded, the increase .2% compared with the expected .9%. On a more positive note, the January figure was bumped up to 4.9% from 3.8%. I know this will come as a shock, but Petroleum prices in February rose 8.1%. Also released were business inventory figures for January, which increased 1.1%. The FOMC is meeting today, and we should soon know if the Fed Funds rate will be increased by 25 or 50 basis points.
In the macro trade, we find energies higher, metals lower, and financial instruments flat. Equities are higher, and the dollar is under pressure.