In what can only be described as a big risk-off day, the grain and soy market provided us with a solid washout yesterday and, as a group, closed at the lowest point since the 2nd of this month. Prices have rebounded this morning, but could this have been a foretaste of what is soon to come? Of course, the war in Ukraine will likely hold the key to unlocking that answer, but unless that situation takes another turn for the worst, it would appear that we will need to remove more risk premium.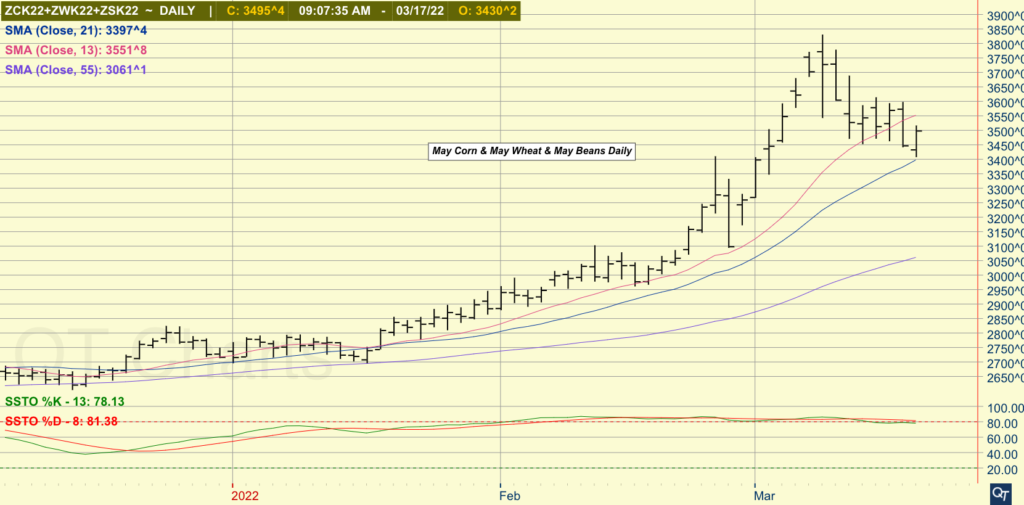 Weekly exports sales were released this morning, and it would seem the only surprise, if you could even call it that, is why we have not seen a stronger uptick in wheat numbers, given all that is happening in the world right now, not to mention the volatility in that market. For the week ending March 10th, we sold just 145,900 MT or 5.36 million bushels for the current crop year. This was 53% below last week as well as the 4-week average. New crop sales were a bit better at 325,600 MT or 11.96 million bushels, but that is not exactly what you would deem panic buying. Corn sales, in turn, were a bit stronger than estimated, coming in at 1,836,400 MT or 72.3 million bushels. This was down 14% from the previous week but still 64% above the 4-week average. Japan was the top purchaser with 538.4k MT, followed by unknown destinations taking 303k and then Mexico in for 235.1k. New crop sales came to a net 204k MT. Also, this morning, there was a sale of 136k to unknown destinations for the current crop year. Current crop year sales for beans slipped 43% from last week, coming in at 1,253,200 MT or 46 million bushels. It is hard to call that disappointing, but it was at the low end of expectations. China was the top buyer with 395.5k MT, followed by unknown destination taking 267.6k and then Egypt with 241.8k. Net sales for the 2022/23 marketing year came to 477,000 MT, of which China accounted for 85%, with the rest going to unknown destinations. In the meat trade, beef sales slipped 28% to 19,700 MT, but pork sales rebounded 51% to 38,300 MT.
The weekly initial jobless claims dropped 15,000 last week to 214,000, which was a larger than expected decline.
As you undoubtedly know by now, the Federal Reserve did deliver with a 25-point basis hike in the Fed Funds rate yesterday as expected.  The only dissenting vote came from James Bullard from the St. Louis Fed, who was in favor of a 50-point increase.  Not to be upstaged, the Bank of England said, I see your move and will raise our rate another 25-points to .75%.  The Fed did point to six more increases this year.  In typical sell the rumor, buy the fact action, financial instruments are higher this morning.  In the other macros, we have energies and metals quite strong this morning, equities now flat, and the U.S. Dollar under solid pressure for the second day in a row.  So much for higher interest rates propping up the dollar.