In the classic story, Through the Looking Glass, by Louis Carrol, an exasperated Alice exclaimed, "In our country, you'd generally get somewhere else, if you ran very fast for a long time, as we've been doing." To this, the Red Queen responded, "Now, here, you see, it takes all the running you can do, to keep in the same place." It would appear that the grain and soy markets must have fallen through some type of Looking Glass at this time as we are certainly trading quite furiously, but at the end of the day, or week in this instance, we have really gone nowhere. I will not go so far as to say that we are living in a fantastical world, where everything we believe to know is reversed, but there are days where it certainly feels that way. Let's just say that if Tweedledee and Tweedledum show up somewhere on the world stage next week, it would not come as a surprise.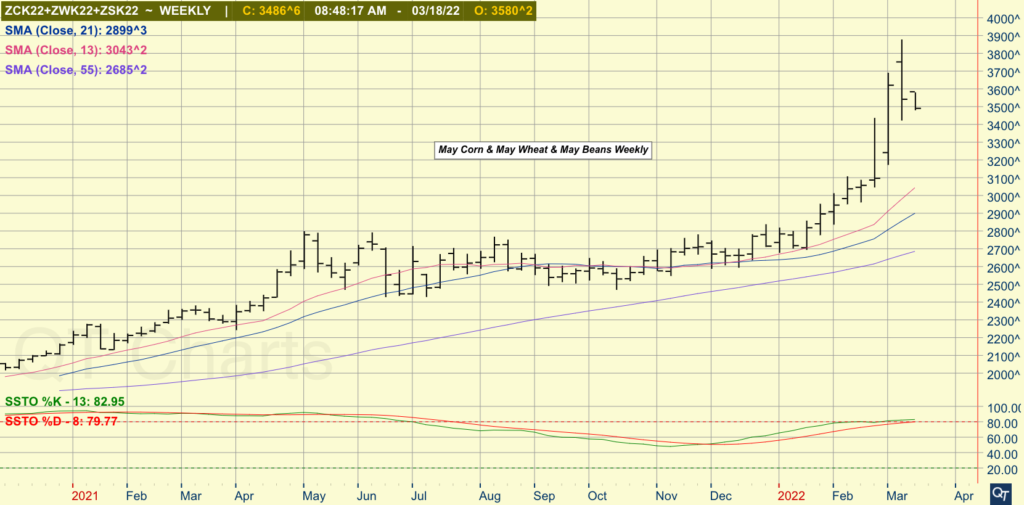 For now, markets will remain at the mercy of the news emanating from the war in Ukraine.  Until a resolution of some type is found, volatility and maintaining risk premium will be the main focus.  It would appear that more and more nations have lined up against Putin and his plans, and it sounds as if even China has recognized the handwriting on the wall and may be backing away.  I read this morning that the Russian foreign minister Sergei Lavrov was en route to Beijing for a meeting, but his plane was diverted back to Moscow midflight.   While I have no particular insight as to the current Russian/Chinese relationship, but it would appear that the request from Moscow for military assistance may have been rejected.  Let's hope so, at least.  This war has unquestionably disrupted global supply chains and relationships, and even if it ended today, it would take time to restore any sense of normalcy.  That said, if/when it does end, one has to suspect we will remove the risk premium from the grain and soy markets very quickly.  I do not believe I want to be standing in the way.
Even though the Fed raised interest rates just yesterday, anyone watching financial markets knows that notes and bonds have been tracking lower (higher rates) for the better part of six months.  Looking at the existing homes sales figures released this morning, it would appear this is catching up with the housing market.  According to the National Association of Realtors, sales of existing homes in January fell 7.2% from a year ago, compared with the expected 5.7% decline.  6.02 million units sold during the month versus an expected 6.13, and the inventory of unsold homes stood at 1.7 months.
In the macro trade, we have energies flat this morning, but if we closed right now, Brent crude would have lost around $6 for the week.  Metals are lower this morning, and for the week, spot gold is down $10.  Financial instruments are strong this morning, but 10-year notes should still finish the week with the lowest close since spring of 2019 and 30-year bonds challenging one-year lows.  Last but not least, equity bulls have come to life, and we are witnessing the best weekly advance since November of 2020.  If we closed right now, the Dow Industrial would be up over 1500 points for the week and the S&P 500 more than 200 points higher.