By: Dan Hueber –
Although this has been anything but harsh for most of the U.S. over the past few months, it would appear that Old Man Winter is not quite ready to relinquish his icy grip just yet.  Unseasonably cold temperatures are forecast to push into the Midwest and Mid-south into the weekend bring along with it additional storms including snowflakes for some regions.  Considering that it is really only the 8th of March and technically the first day of spring is yet 12-days away this should really come as no shock. That said I suspect there were a few beginning to conjure up ideas of widespread early spring planting and it would appear that mother nature has other plans in mind.
Grain and soy markets have extended the pressure again this morning and appear to be led by the soy complex.  Actually wheat, which has been the persistent dog of this group for the past couple years is performing the best, possibly buoyed a touch by the fact that Egypt has rejected cargoes of wheat from both Russia and Argentina, which could open the door for additional U.S. sales.  This nation is by far the world's largest importer of wheat.  As for the other two markets, the improved weather conditions in South America and hence increased harvest activity, availability of beans and planting of safrinha corn in Brazil all conspire to keep the pressure on.
We need a new (positive) story to temper the current negative attitudes and it would seem unlikely that the March supply/demand reports will provide such.  While nothing says that trade estimates will be on the mark, it would appear that the majority are looking for little to no change in domestic figures and a boost in the South American crops and if that were to be the case, all you could hope for would be that it is already factored into the current price structure.
I have to believe that the overall action in the U.S. Dollar over the past few weeks has been a drag on commodities as well.  I intend to elaborate a bit more on the dollar in the weekly newsletter but would point out that after the initial break in the dollar and rally in commodities that happened directly after the beginning of the year, the two indexes have reversed direction once again.  The dollar strength has become a growing concern with the administration, particularly with their emphasis with trade imbalances but they really have little recourse to try and change the direction, particularly when the market is now heavily leaning towards an interest rate boost by the Fed this month.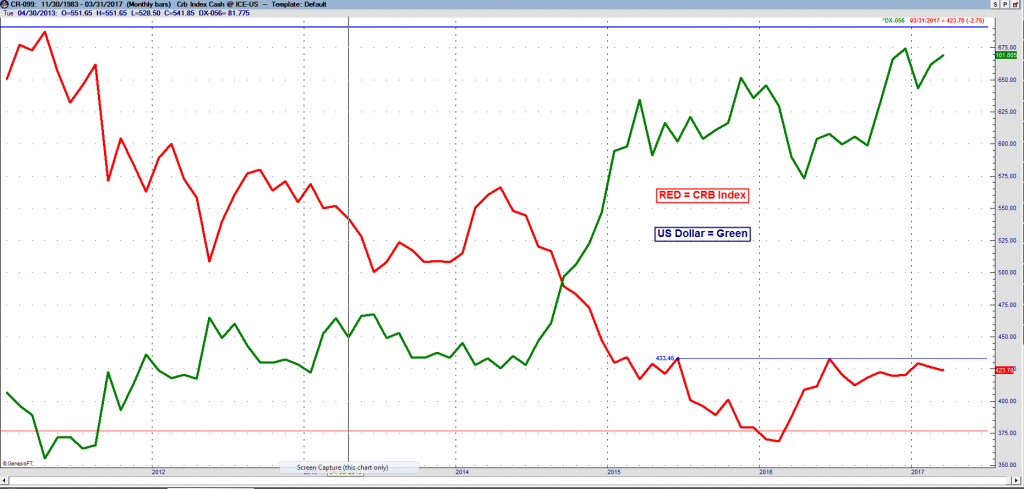 Marcos lean negative this morning as the dollar is higher as are equity markets and energies and metals are soft.  Tomorrow will bring us weekly export sales, the USDA supply/demand and Conab estimate for the South American crops.  If nothing excites the trade from these, then we can begin to look out the end of the month for the quarterly grains stocks and prospective planting reports.  I guess we can never be too far off the next "word of gov."