This will be the final edition of the Free Daily Commentary.   If you would like to continue receiving this information, along with the technical commentary and the very popular weekly newsletter, please click here to subscribe. 
While the action this morning is mixed, as it stands right now, this will have been a positive week for the grain and soy markets.  Currently, May corn is 6-cents higher than last Friday, May wheat is up 30-cents, and May beans are also 30-cents higher.  Regardless, all we have really managed to do is recover the previous week's losses.  Possibly more interesting is the fact that the overall range for the week will have been the narrowest it has been since last fall.  While there is a possibility that these markets are just in need of a breather after weeks and weeks of extremely volatile trade, it could also suggest, we have already kneaded the effects of the war well into the dough, and until, or maybe better stated, unless something else develops, we are looking at a very tied bull, albeit a very nervous one.  Do note that weekly indicators are right on the cusp of crossing lower. It would seem the only thing we need to hear now are reports of John Q. Public rushing in to buy commodities or commodity ETF's to confirm we are at a peak.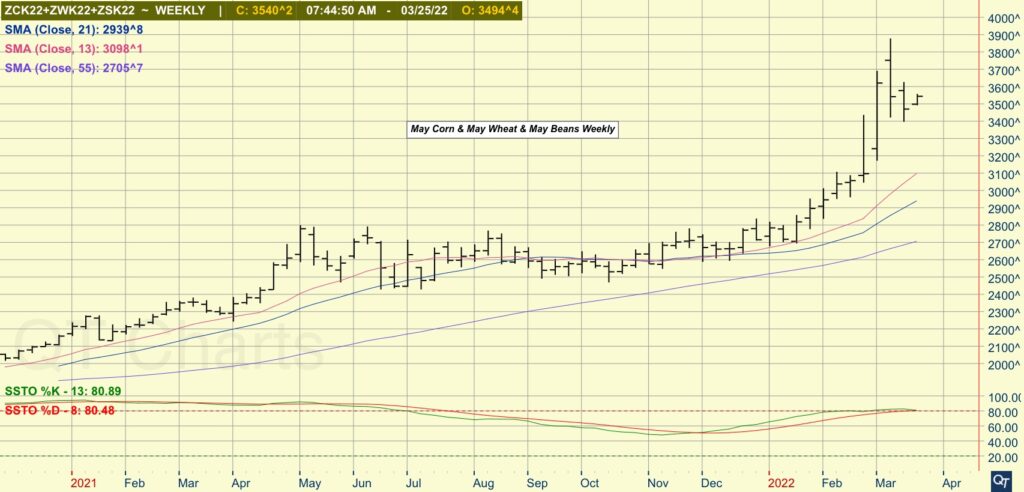 Global events such as the one we are witnessing between Ukraine and Russia that upset supply lines, and trading relationships, not to mention markets that were already overheated, always produce underlying shifts that may not be readily obvious in the early weeks and months.  The critical point to remember is that once these have been set into motion, they cannot easily be reversed.  No doubt, one of the first things that come to mind has been the scramble to find alternatives to Russia as an energy source. No doubt lead to increased exploration for fossil fuels, cement new trading relationships, as well as accelerate the push for alternate energy sources.  At first blush, one would think this would be a boon for biofuels, and short-term that may be the case, but we are already seeing signs of pushback.  Green groups in Europe are calling for the suspension of crop-based biofuels, pushing for a halt to using any edible feedstock for a fuel supplement.  There was a briefing published this week by a group named Transport and Environment, titled Food not fuel.  One has to believe that the longer this war is waged in Ukraine, the louder and more widespread will be the voices echoing this sentiment.  If that is the case, and consumers turn their collective backs on biofuel, it may be difficult for the industry to recover long term, particularly if money is being directed at other alternatives.  It will be a lot more palatable for a consumer to think about driving a bit less than paying more for food or looking at pictures of hungry victims of an unjust war.
In economic news this morning, the University of Michigan released updates Consumer Sentiment for March, which came in at 59.4, a slight downtick from the preliminary 59.7.  Also, to cap off the home sales reports for the month, the National Association of Realtors released Pending Home Sales for February, which dropped 4.1% from January.  Economists were expecting a 1% increase.
In the macro markets, for the week, we find Brent crude oil up nearly $9 per barrel and gold up $30.  Both t-notes and t-bonds have pressed into lower lows, and the U.S. Dollar has bounced around 40-points higher for the week but did not extend into higher highs for the year.  Finally, equities have built upon last week's reversal, and the S&P 500 is on track to record the highest close since mid-January.