By: Dan Hueber –
It would seem that without question, the biggest non-news, news to be released this week was the 25-basis point hike in interest rates that the Fed announced yesterday.  While it did not fit into the category of being labeled a "sure thing", economists and markets were nearly giving odds that it would happen to be just that.  As such, it is not surprising that many markets gave this change a luke-warm response and one, in particular, the Dollar, a contrary reaction.  The theory, of course, is that if interest rates move higher, it will attract more buying into the dollar as our rate of return for government-backed securities is greater than many other credit-worthy nations and investors will want to capitalize on this. In turn, this should push the dollar higher.  As I said, though, that is how it should work in theory, but yesterday after the announcement the dollar suffered one of the largest setbacks we have witnessed in months.  It would appear to be a classic, but the rumor, sell the fact type scenario and could spell trouble for the dollar in the weeks ahead.  If that turns out to be correct, it may be just the remedy that the commodity markets need to spark a little additional buying interest before we move out into the growing season "risk" months just ahead.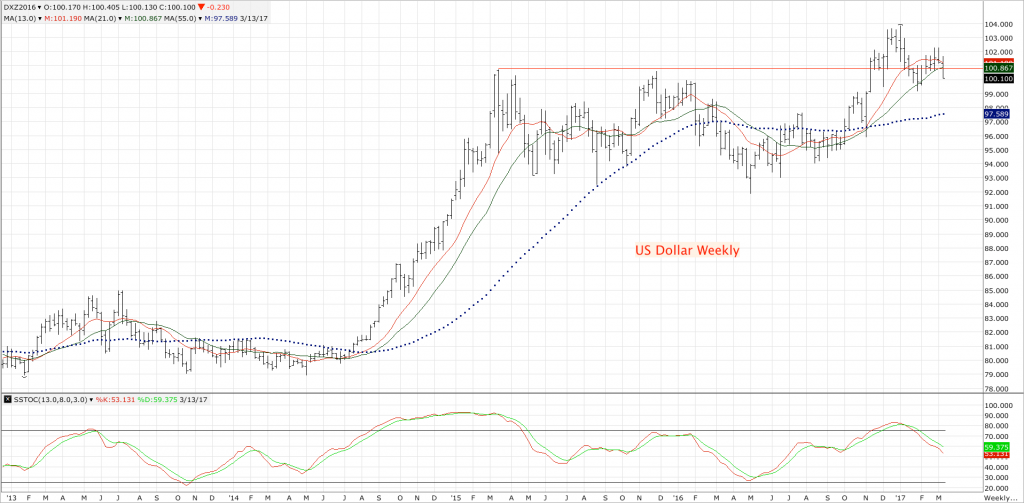 It is Thursday so we have weekly exports sales released and corn turned out to be the bright spot for the week.  We sold 1,255,400 MT or 49.4 million bushels of corn, which was 69% above last week and 70% above the 4-week average.  There have only been seven weeks during this crop year that have been higher than this. The top sales went to Mexico with 300.4k MT, followed by Japan with 282.6k and Columbia at 182.2k.  We have now reached 80.3% of the USDA target with 25 weeks left in the crop year.  With sales like this and rumors the China was buying corn this week, would we begin to suspect that US corn presents a good value right now.  Bean sales slipped a bit this week coming in at 471,600 MT or 17.3 million bushels.  This was 3% below last week and 12% below the 4-week average.  Top sales were made with China at 221.4k MT, Germany with 152.4k and the Netherlands at 70.6k.  As I have commented previously, herein lays the problems when sales are so front-loaded.  17 million bushels is by no means a bad number, and considering we have now sold 95.8% of the projection with 25 weeks left to go, odds would seem to favor we may yet by underestimating the potential. Last and this week, least as well we have wheat sales coming in at 264,400 MT or 10.4 million bushels.  This figure was 33% below last week and 38% below the 4-week average.  Top sales went to Mexico with 118.5k MT, China at 103k and Indonesia with 74.4k.  For the marketing year, this brings the total to 91% of the targeted 1.025 billion so with 12-weeks left in the year; we need to average 7.7 million per week to hit the mark.
Grain and soy markets are attempting to extend the strength from yesterday and appear to be aided by the macros.  Energies are higher, metals sharply higher and the dollar sharply lower.  As I suggested earlier, I believe these markets have again reached a point of value and with all the risk of the growing season laying yet ahead, believe that price will tend to try and work back higher from here.  Particularly if we can see the dollar continue to head in the other direction.