By: Dan Hueber –
Grain and soy markets are looking at a mixed bag as we begin the final few hours of this week and overall it has not been really a bad one for the Ag sector.  Were we to close right now, nearby corn would be up 1-cent, beans down 7-cents and wheat down 5-cents.  In the process, these markets have slid back into a short-term oversold position and while that does not assure a rally, it at least tempers some of the incentive to add to or even remain short.  If we widen the picture just a bit we find that cotton is up over 1-cent for the week and poking against the highest level traded since the summer of 2014, nearby hogs are up $1.70 cwt and cattle $1.60 cwt.  If we take a look at the DB Ag Fund ETF we find a market that continues to build what appears to be a longer-term base of support which we should eventually extend higher from but obviously, the time for that the happen is not quite here.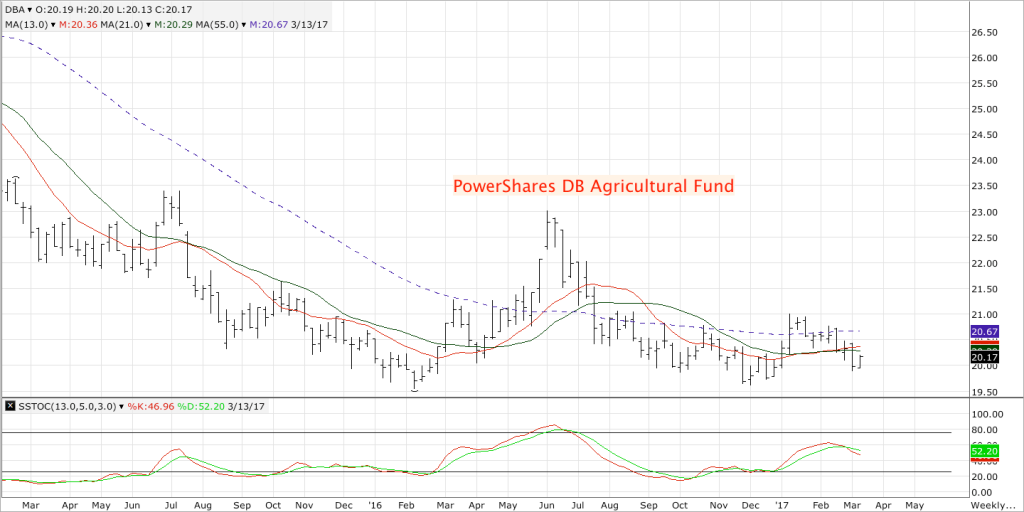 It would appear that Cargill is continuing to streamline its operations and focus more and more on its bread and butter; the ag sector.  It was announced yesterday the they have reached an agreement to sell their Geneva Switzerland based petroleum business to Macquarie Bank of Australia. This is somewhat of an about face for the company as just four year ago CEO David MacLennan stated they were planning to expand operations in that arena.
Last but certainly not least this week, the ag community was understandably quite alarmed when President Trump released the proposed federal budget which calls for a 21% cut or $4.7 billion in discretionary spending at the USDA. Specifically targeted were the rural clean water initiatives, rural business services and reducing staff at statistical services and county level offices.  Ag leadership at both the house and senate and the American Farm Bureau have already voice their displeasure.  Granted, this is only a proposed budget but it would seem obvious that there will be a fight ahead so keep the numbers and e-mail addresses of your representative handy.