By: Dan Hueber –
After a promising start to the week for the grain and soy markets yesterday, everything turned to guano as both corn and wheat posted outside lower reversals and beans slipped back to the unchanged levels and well from its highs.  There would not appear to be any "stand-out" kind of news that inspired the bulls to sound the retreat bugle but one could also say there was little to provide optimistic incentive either, and with commodities in general acting just a bit sluggish, the path of least resistance became the downside.
As we have discussed many times in the past, crude oil often acts as a bell weather or at least the poster-child for all things commodity, and while it appears to have stabilized over the past week or so, it took a rather decided push lower right at the first of the month.  If you recall a couple of months ago, I expressed concerns about the buildup we had witnessed in long speculative positions as people geared up for the cuts in OPEC production as it seemed as if too many were jumping on to the bullish boat before it had even barely pulled away from the dock.  Often when that is the case, some of the dead weight needs to be tossed overboard and it would appear that is what we have going on.  Last week alone, hedge funds sliced their long position by over 153 million barrels between the two major crude oil markets, which is the largest one-week drop on record.  Recognize, they continue to remain long in this market, and there could be further liquidation, but I believe it would fit into a corrective breakdown not the beginnings of a new bear move.  That said, we could easily grind in a generally sideways pattern for another month or so, which means the oft-leader of the commodity gang may be more of a lager.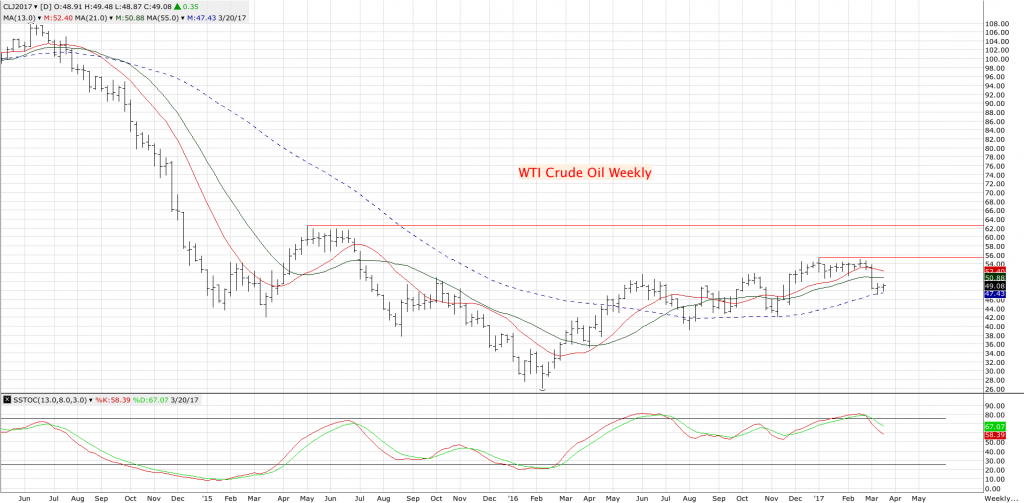 Potentially providing a little counterbalance to this is the fact the U.S. Dollar has extended lower again this week.  While we have not quite reached down to the calendar year lows at 99.19, it would appear that will be a reasonable target, and I suspect once there, we will continue to extend through.  Interestingly enough, the additional pressure this week, particularly against the Euro appears to have been stimulated by recent polls in France that suggest the independent presidential candidate Emmanuel Macron is being favored to take the election, alleviating fears that a win by Marie Le Pen would mean France would follow Britain by exiting the European Union.  Would that be a Franc-xit? Of course, election polls over the past year have been anything but accurate.