By: Dan Hueber –
While it may amount to little more than a "Tuesday undo" bounce but we are seeing a nice little rebound across the grain/soy complexes this morning.  There is really nothing that I can see in the overnight news that would appear to have stimulated any fresh buying so I believe it is safe to assume that we have pressed into an oversold enough position that the bear is beginning to sense downside potential is limited from here, not to mention the fact that we have returned to "value" levels once again.  Corn is probably provides the best visual of this right now as you can see that May futures have worked back down to the range where we found consistent support during the final three months of 2016, and in the process has swung daily indicators into a very oversold position.  I would not expect to see anyone make bold position changes between now and the release of the reports on Friday but unless Uncle Sam delivers something surprisingly bearish, I have to believe the path of least resistance will be back to the upside.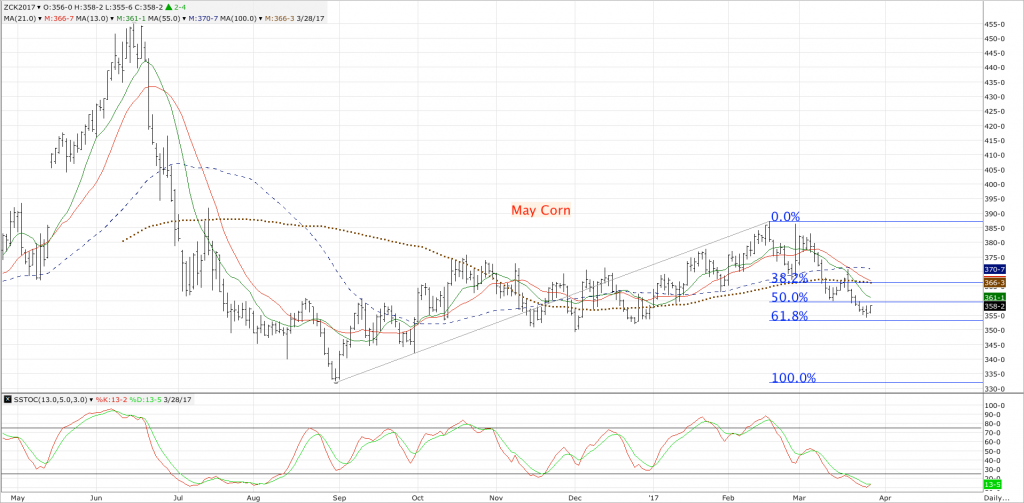 The bean harvest pace in Brazil is not at a lightening pace but continues to move forward and advanced 6% in the past week and stands around 68% according to AgRural.  Yields have remained consistently solid and Dr. Cordonnier kept his estimate this week unchanged at 108 MMT, which is the same number the USDA is currently projecting.  Planting for the safrinha corn crop has moved along well with generally favorable weather.  Bean harvest in Argentina is beginning to move forward and is estimated to be between 1 and 2% complete.  Early yield reports have been solid and Dr. Cordonnier bumped his estimate up 1 MMT to 56 MMT.  The USDA currently stands at 55.5.  Corn harvest in that nation is estimated to be 8% complete.
Not much else to focus on this morning.  Marcos are generally supportive with energies and metals higher, equities slightly lower and the dollar near unchanged.  For now, we remain on report watch and should see the grain and soy complex chop sideways into Friday.