By: Dan Hueber –
The corn and wheat markets appears to have shifted into neutral over the past couple days, while beans remain stuck in reverse at least for now.  Beans are bound to run into a wall, or at least another car before long but the combination of the ever-expanding crop size in South America and the prospects for a record breaking acreage estimate tomorrow continues to weigh on that market.  The Dow Jones/WSJ released survey estimates and have corn acreage coming in a just smidge higher than some of the other estimates.  They have corn at 91.034 million, beans at 88.128, and wheat at 46.059.  Ending stocks on their survey land at 8.551 billion corn, 1.679 billion beans and 1.622 billion wheat.  Only another day now until we hear the "word of gov."
In the interim though we will see this hog and pigs estimate later today and this morning weekly export sales have been released.  For the week ending March 23rd corn sales dropped 47% from the previous week coming in at 716,900 MT or 28.23 million bushels. Of course, we recognize that this is coming off solid sales last week but psychologically it still registers as a bit of a letdown.  Top sales were made to Peru with 205.8k MT, Mexico taking 189.3k and Japan at 180k. Beans sales moved in the other direction as we sold 681,000 MT or 25.03 million bushels.  This was 15% above the previous week 42% higher than the 4-week average.  On the top of the list was Germany taking 208.9k MT, followed by Mexico with 172.7k and China at 89.2k.  Additionally, this morning the USDA announced sales of 165k MT of beans to China in the daily reporting system.  Finally, for wheat we sold 464,100 MT or 17.06 million bushels. This was an 11% boost over the previous week and 33% above the 4-week average.  Top sales were made to Saudi Arabia at 120k MT, followed by the Philippines with 118.4k and Mexico at 73.4k.
It would appear that there may be a softer tone emanating from the White House concerning potential changes for NAFTA.  A draft proposal that has made its way to congress leaves unchanged some of the provisions such as the three-nation arbitration panel that is used to resolve claims.  It did though include a provision to allow a member nation to reinstate tariffs if it deems massive imports caused "serious injury or a threat of serious injury" to domestic industries.   As Mr. MacLennan of Cargill noted yesterday, NAFTA is a 24-year-old agreement and deserves to be revisited, and the ideas currently being floated around appear to be a good first step.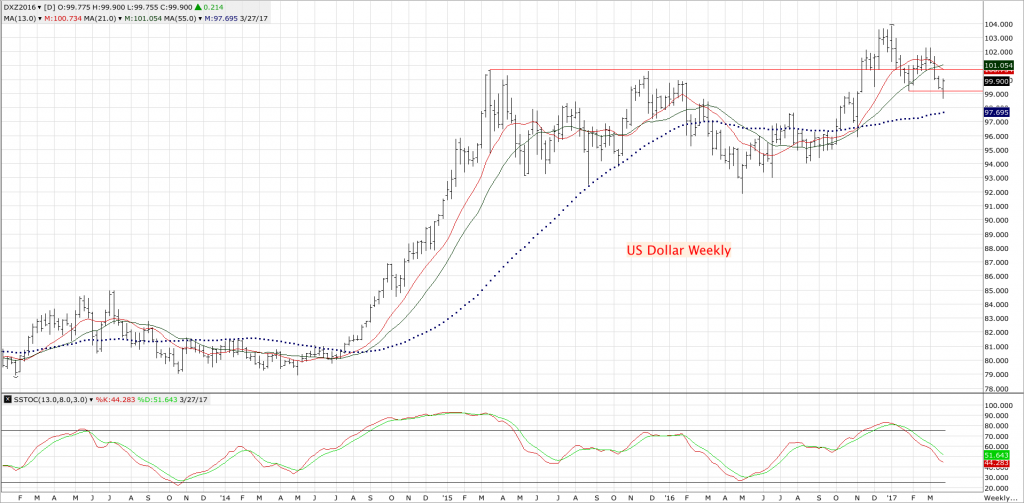 Little else to look at in the news this morning.  Macros are mixed as we have equities lower, energies higher, metals under pressure and the dollar higher and this after early week pressure.  If the index holds the gains into the close tomorrow, it will be the first higher close in the past four weeks.